Tru Hotel, Orlando Convention Center
Last month, I had to pleasure to attend the InfoComm Show at the Orange County Convention Center in Orlando, Florida. It's a conference for Audio-Visual technicians and anyone interested in the audio and visual aspects of IT.
Anyway, that whole week I stayed at the "Tru by Hilton" hotel just a 10 minute walk from the West (rear) entrance to the convention center. I found it to be very convenient, even in the sweltering Florida summer heat and humidity.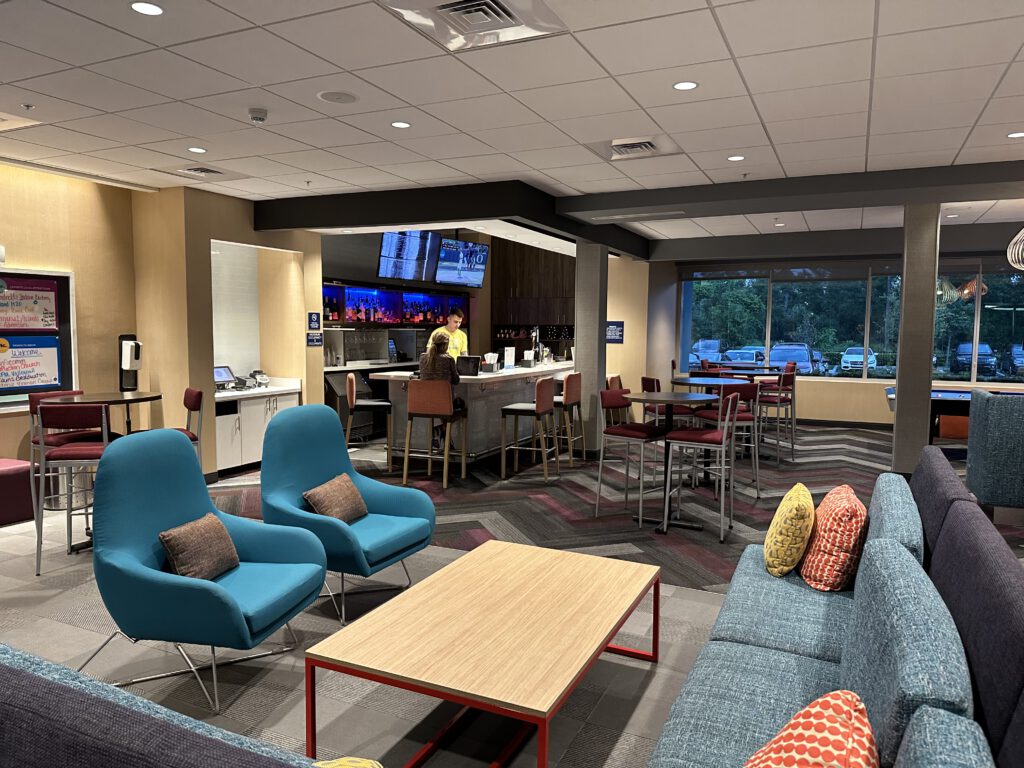 The Tru hotel in this location appears to be quite new. It's the first time I stay at a Tru, which is on the lower/cheaper end of the hotel brands in the Hilton chain. My employer wouldn't pay for anything more, so I saw it as an opportunity to explore a brand I've never stayed at before.
The hotel itself is simple and clean. I can't stress that enough. The interior reminds me of IKEA – a very colorful, simple, and functionally designed interior throughout the hotel. I would say it probably appeals a lot to the younger population, as well as visitors from Scandinavia or Japan who are used to this kind of design and practical living. If you don't fall into that category, it might not be a hotel for you. Everyone should love the cleanliness factor though. This hotel was super clean!! I've been to way more fancier hotels and always found some dust, dirt or grime throughout the room. Not here!! Kudos to the housekeeping staff!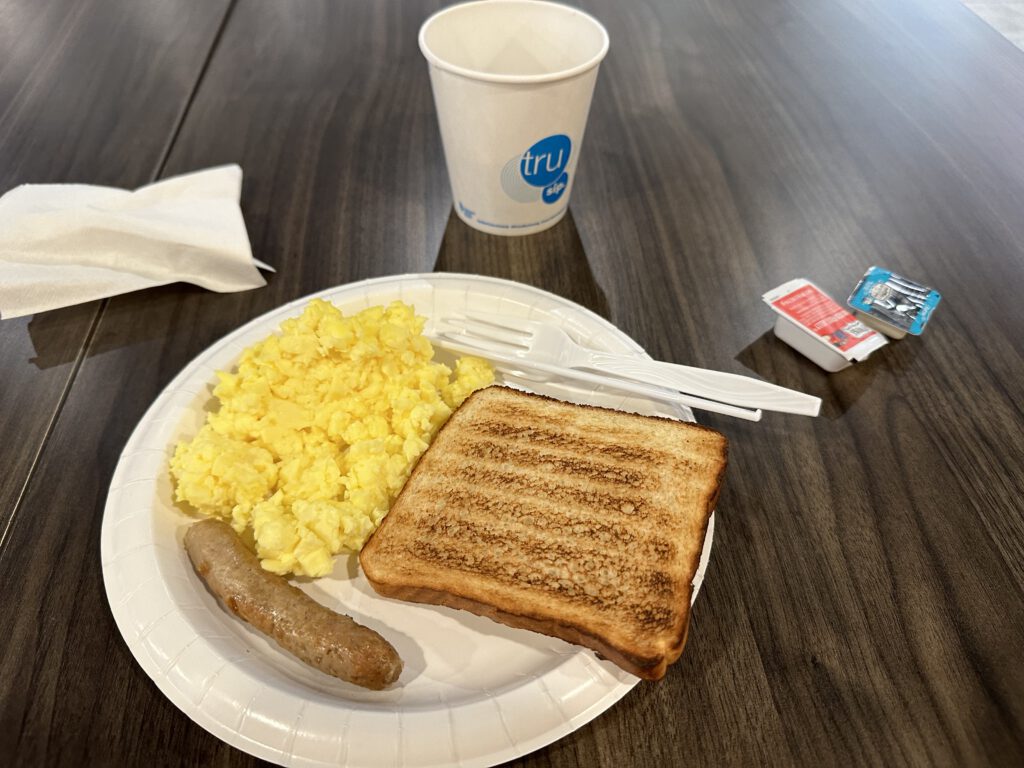 So it says that breakfast is included. I'm here to tell you that it's wise to skip breakfast at the Tru hotel, unless you just want a piece of toast and a mediocre cup of coffee. The rest is nasty. What made things worse is that they use disposable paper plates and plastic utensils. I tried it the first morning, but then opted to eat breakfast elsewhere. It was truly pathetic! I'd rather they not include breakfast at all.
Ok, so to the room. It's really thoughtfully designed. Again, it's simpleness really appealed to me. It has everything you need, and nothing more. And all spaces are easy to keep organized and clean.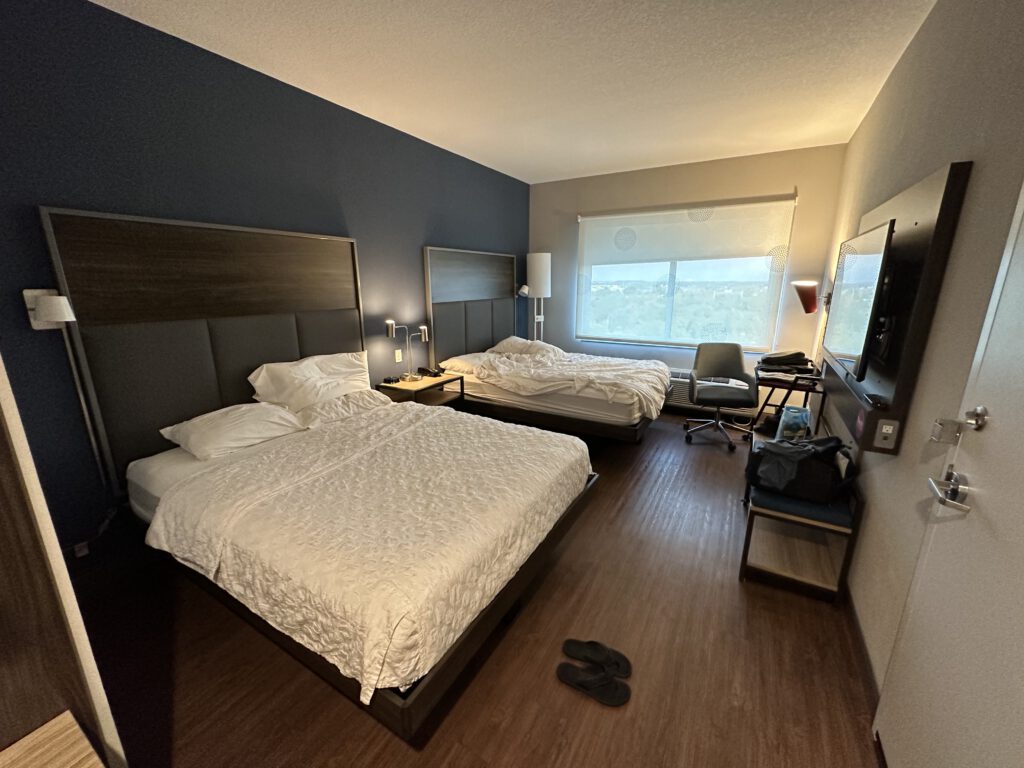 The beds are as comfortable as the room is clean – both these things may be because the hotel is new. The bathroom is well designed and I love that they got rid of the disposable plastic shampoo bottles and replaced it with something less wasteful (refillable containers mounted on the wall). What I loved the most about the room was the exposed bar to hang your shirts. You can see it in the middle photo. No more dark dusty closets. The exposed bar is perfect for a short stay and makes it easy to manage your hung clothing. The hooks on the wall were also great for hanging my pants or any kind of bag you may have.
I didn't spend too much time in the rest of the hotel. The pool looked incredibly inviting, but I was more eager to spend the time at local breweries – especially one the ones in the Ivanhoe Village neighborhood near downtown. If you need a variety of meeting spaces, remote work spaces, or just to hang with friends, then there were plenty of that in the lobby and adjoining rooms. It has a decent gym, which I didn't use.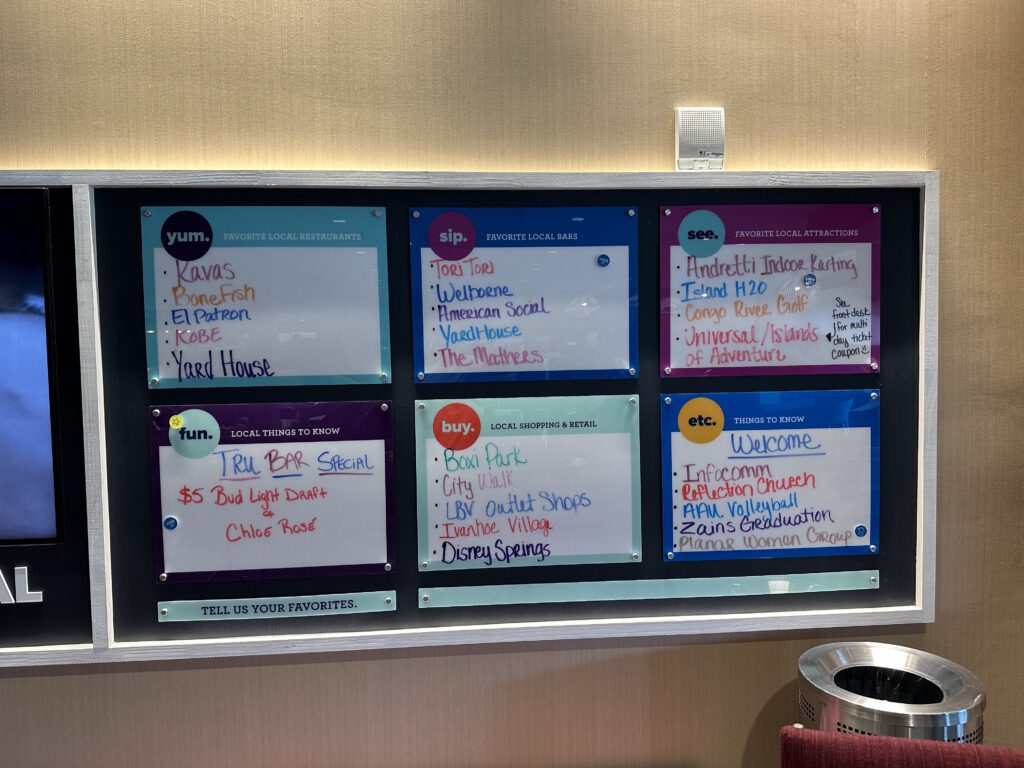 One really neat thing in the lobby, which I think more hotels should copy, is a bulletin board that shows restaurants, bars, and activities nearby that the staff recommends. I find it way more useful than having a live concierge on-site…..and way cheaper too. And it definitely helps, considering this hotel has no on-site restaurant. The closest restaurant is actually in the DoubleTree hotel, several blocks away.
All that said…. I would recommend this hotel to people attending the convention center as well as single travelers or couples needing a cheap place to stay. For family vacations, I would look elsewhere as this hotel is kind of limited and doesn't have anything in terms of eating options.
One thing to say to management: Please lobby for the local electric scooter companies to include your hotel in the coverage area. I like electric scooters, but had to stop short of the hotel and walk the last distance.
Safe travels!