Embassy Suites, Denver Airport
Overall I like the Denver International Airport, but as it is a United hub with more and more traffic, it's very prone to delays and cancellations. That's the reason I got to experience a night at this hotel.
My flight from Orlando was delayed and with a late arrival in Denver, I missed my connecting flight. After standing 2 hrs in line for United customer service and still not being helped, I decided to give them a call while waiting in line. Fortunately, their call center was better equipped than their service counter at the airport. United rebooked me on a flight the next morning, but wouldn't provide me with accommodations – only a meager $50 future flight credit. So I started looking for nearby hotels myself. The airport itself only has one true airport hotel, which is a pricey Westin. All other "airport hotels" are over 10 miles away. Some of them were even further and some were at capacity. The first shuttle that showed up was for the Embassy Suites, and it had availability, so I picked that hotel to get six hours of sleep before heading back to the airport for my flight home.
I arrived kinda late in the evening, so it seemed empty, but turns out most guests had gone to their rooms already (according to the waitress in the lobby restaurant). The restaurant was about to close, but I was able to put in an order for a delicious clubhouse sandwich.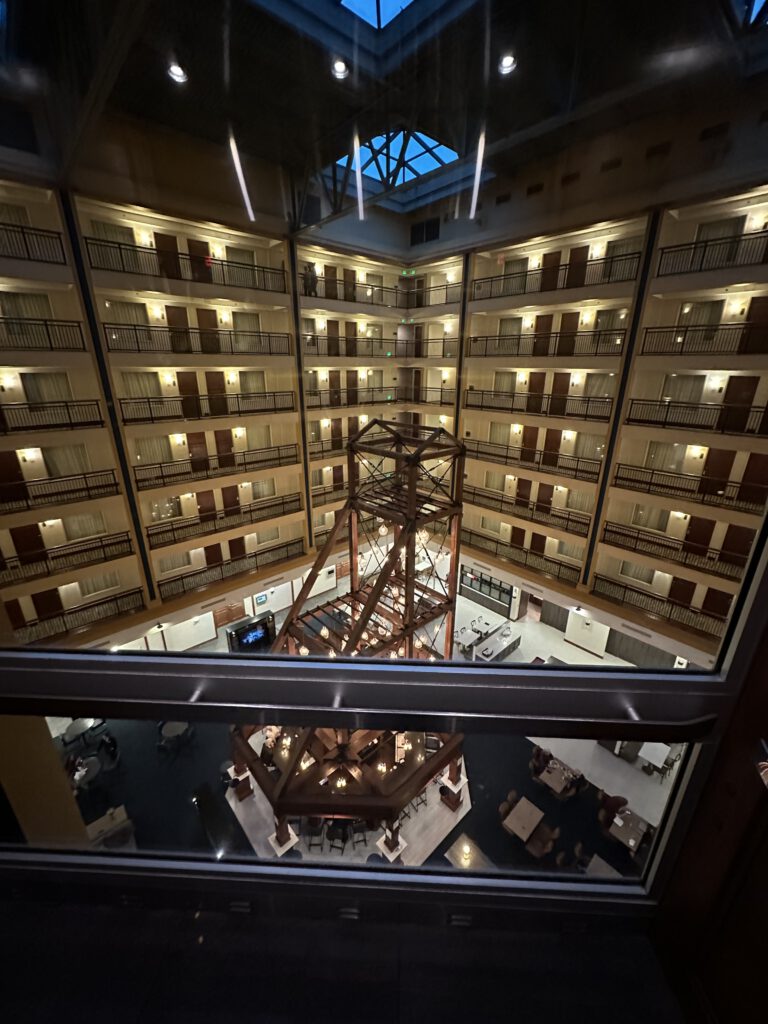 The hotel is pretty nice! It has a cool lobby bar placed in the middle of the hotel, designed as an open air structure surrounded by the hotel rooms. Similar to Luxor in Las Vegas and Radisson Royal Viking Hotel in Stockholm.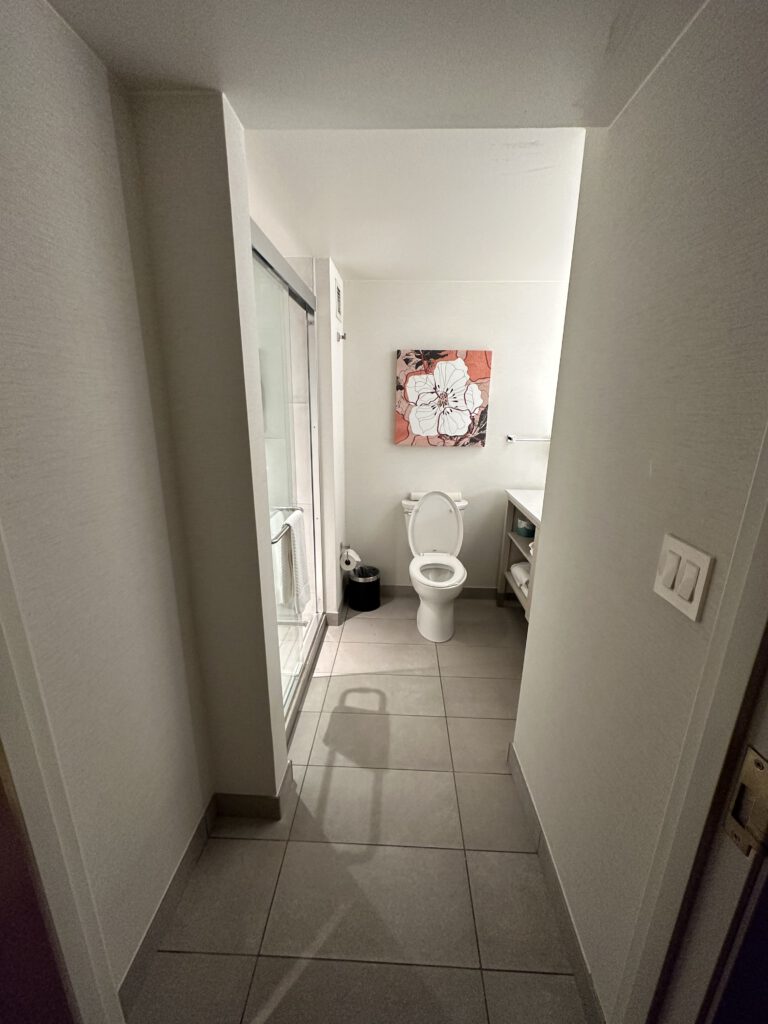 The room was nothing special. A typical hotel room that's not bad but also not memorable. I just needed to sleep, so all I really cared was that the room was clean and the bed was comfortable, which it was.
In the early morning I got up and took a speedy shuttle to the airport for my final flight.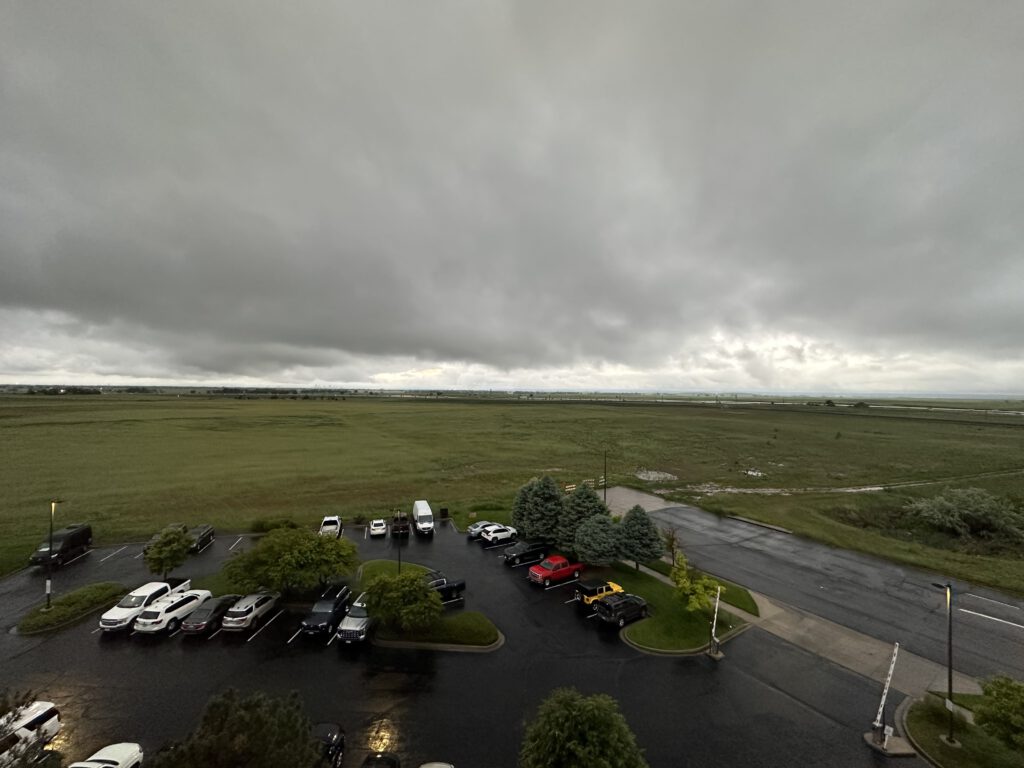 Apart from the Westin that is literally at the airport, the rest of the airport hotels are out in the middle of nowhere…like they built them on unused open land, as you can see from the photo above (view from hotel room).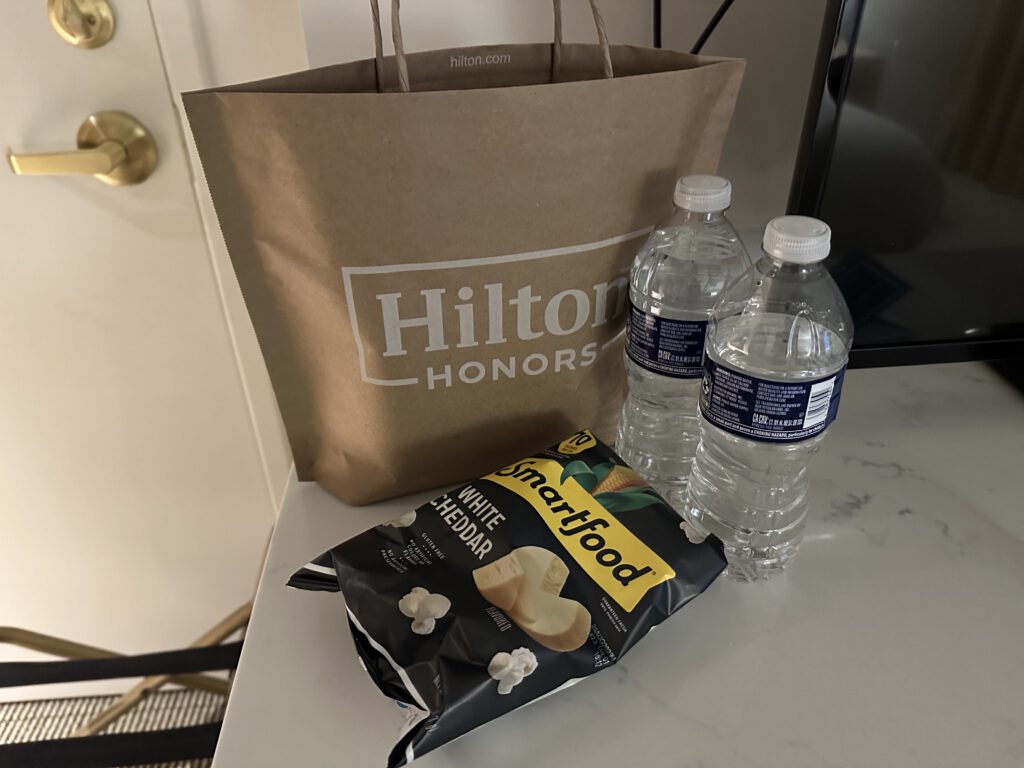 Can't forget to mention that as a Hilton Honors Diamond member, there are some perks in terms of water and snacks.
Bon Voyage!
accommodations, airport hotel, colorado, denver, embassy suites, hilton, hotel