Hampton Inn, Kapolei
Very few locals in Honolulu and east Oahu know that there are actually 3 chain hotels located in the heart of Kapolei on west Oahu. Common response is why? So I went to find out.
Pretty much all hotels on Oahu are located in three areas – Waikiki (south), Ko Olina (west), and Turtle Bay (north). A couple of years ago I was studying the hotel map and found out there are 3 hotels in central Kapolei that are part of the two large global chains Hilton and Marriott. The Embassy Suites has a really good japanese restaurant on premise, so I've eaten there several times without ever spending the night. Next door to Embassy Suites is Residence Inn, which has a well-reviewed bar, but it's not that great anymore after they made changes and menu-reductions…possibly due to the pandemic.
The first day of this new year, I decided to try one of the Kapolei hotels and opted to spend a night at the Hampton Inn, which is on the lower end of the Hilton group. I've had mixed experiences with Hampton Inn in the past. Usually they are pretty good standard and offer a basic breakfast for free.
Driving there, I was wondering who really stays at this hotel. It's not really in an area where tourists would hang out or entertain themselves. Kapolei was built up as Oahu's "second city". Government agencies and corporations were lured out to Kapolei to prevent westside residents from having to commute to a congested Honolulu. From my perspective, I believe it has partially worked, but probably not as much as they had hoped. The freeway is still jam packed during rush hour and the City is still building a commuter train between Kapolei and Honolulu. Seeing that this hotel is often at max capacity, I'm curious to what type of guests stay here. I highly doubt they are the typical tourist. Judging from the people I saw, my guess would be that there's a mix of locals (staycations), mainland family members of locals living on the west side, as well as military service members coming and going to/from the islands.
Ok, so what about the hotel!? It's built on the premises of the Ka Makana Ali'i shopping center, so you only have a very short walk to shopping, restaurants, and theatres. I reckon that is a great selling point for this hotel. It's super convenient!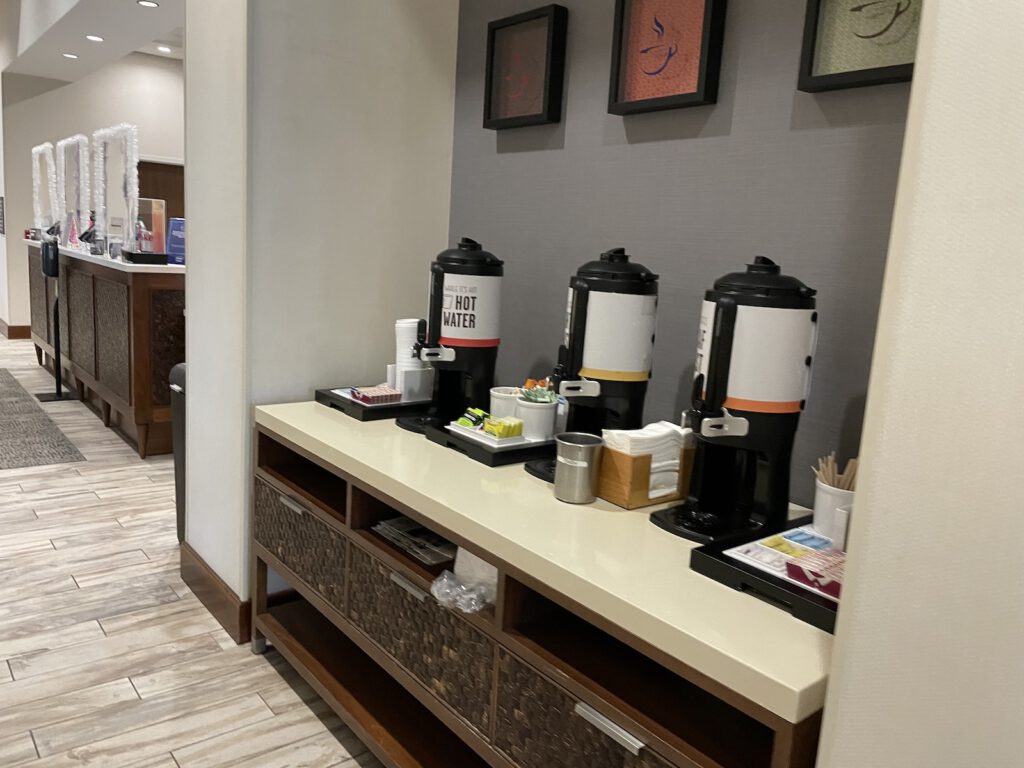 The lobby of this Hampton Inn is very small. There's a counter with free coffee to the right of the front desk, and if you take a left there's a nice and fairly good sized area to hang out. This is also where the breakfast buffet is served in the mornings. If you've stayed at a Hampton Inn elsewhere, you'll find the breakfast very familiar. Nothing great, but it fills your empty morning stomach.
Close to the elevators, there's a fitness center, a tiny laundry room, as well as a pool. It's an outdoors pool, but half of it is under a roof, so you can enjoy yourself in the water even when it rains. The pool was not that appealing, so I never dipped my toes in it.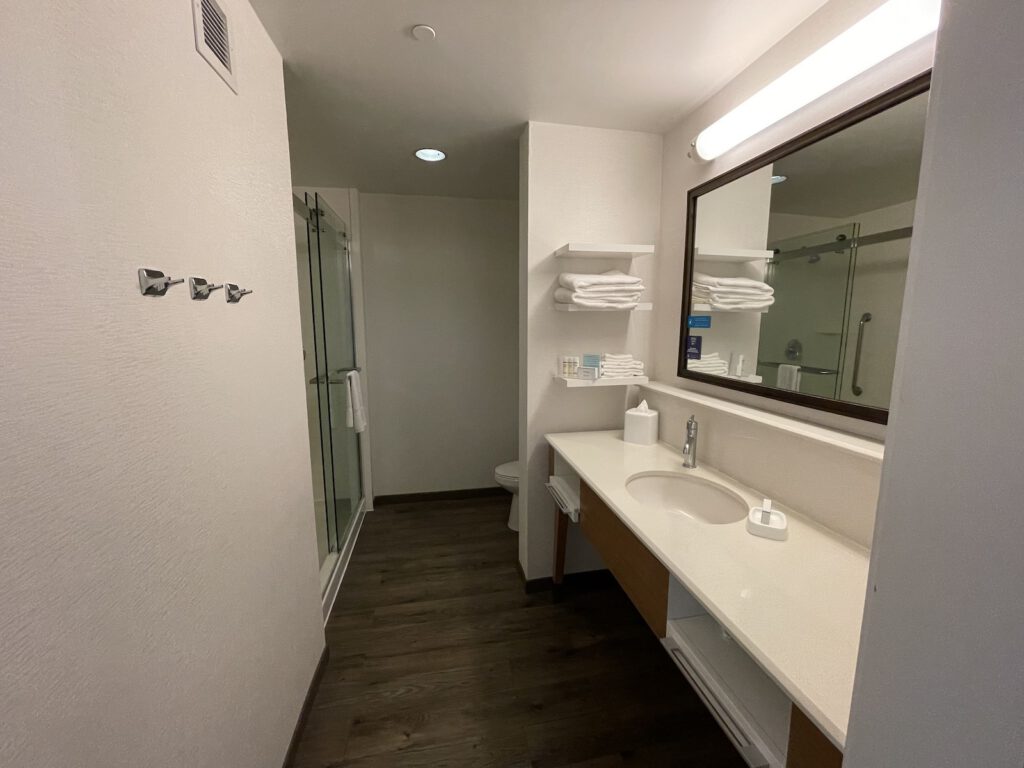 My room was clean. The rooms are basic and functional. I like the pull out trays in the nightstands for extra surface areas. It appears that the designers of the rooms paid good attention to make it practical and functional without it being too small or too big. A standard low-end hotel room, but well thought out. Bed was comfortable and I slept well, which at the end of the day, is the most important thing. First I thought the view from the room was boring, but then I realized I had a great view of the sunset, so I pulled up my chair and beer to the window.
One thing I really liked: That they will give you free toiletries if needed. I've forgotten my toothbrush on several occasions, so I like this insurance. Such a fine little benefit that doesn't cost them much, but well remembered.
One thing I really disliked: You can't fully close the curtains. Because they way they designed the air conditioner, window, and curtains…you can't close the curtains in the middle where the A/C is located. That's a real bummer if you like pitch darkness when you sleep, because the street lights from outside will blind you. They need to redesign the curtains!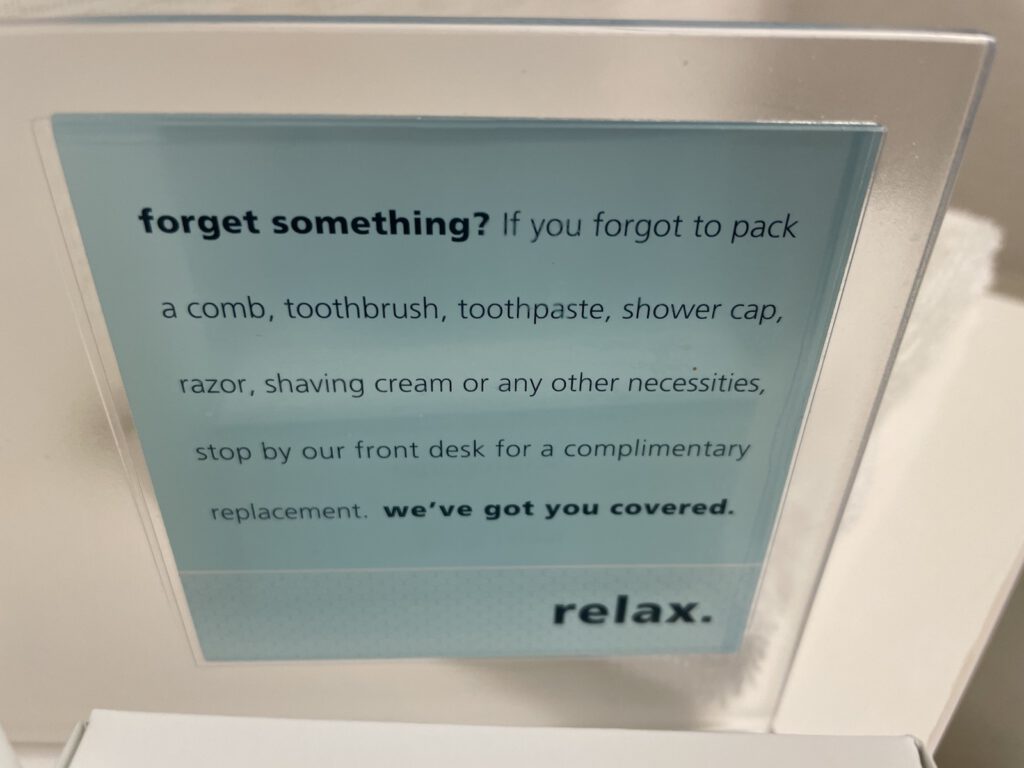 Aloha! Safe travels!