Our Colorado Winter Holiday Vacation
After all these years of thinking of Colorado, but never ending up going, we finally did. And we might have the pandemic to thank for that. With Canadian border closings, it was high time to ski domestically again.
And not only skiing. We have relatives in Colorado who we haven't seen in ages. It was definitely about time for a family get together. Add to that, we also did some of sightseeing and shopping.
We started off with landing in Denver in the early freezing morning and picking up a rental car from AVIS. Kudos to AVIS for having an upgrade ready to go with the keys already in the ignition. All Wheel Drive is pretty much required in Colorado during the winter half of the year, so we were fortunate AVIS hooked us up with one. I have to say driving in the greater Denver area is a breeze. The roads are straight, flat, and well maintained. With the mountains to the west and flatlands to the right, it's also easy to navigate. There are no natural obstacles like lakes, rivers, or mountains within the Denver area. People drive pretty good too, although at times a bit too fast.
Our first few nights were spent at the Hilton Denver Inverness, which you can read more about here.
On our first full day in Denver, we drove to the Dinosaur Ridge. The name pretty much says it all. This is a ridge just west of downtown Denver where you can see a lot of dinosaur tracks, touch dinosaur bones, and take in the extremely distant history of Colorado. Who knew that Denver used to be covered by an ocean during the dino era? Who knew that the Rockies didn't exist back then? I highly recommend you take the guided bus tour….our guide was an expert in dino knowledge and he shared it with us so well.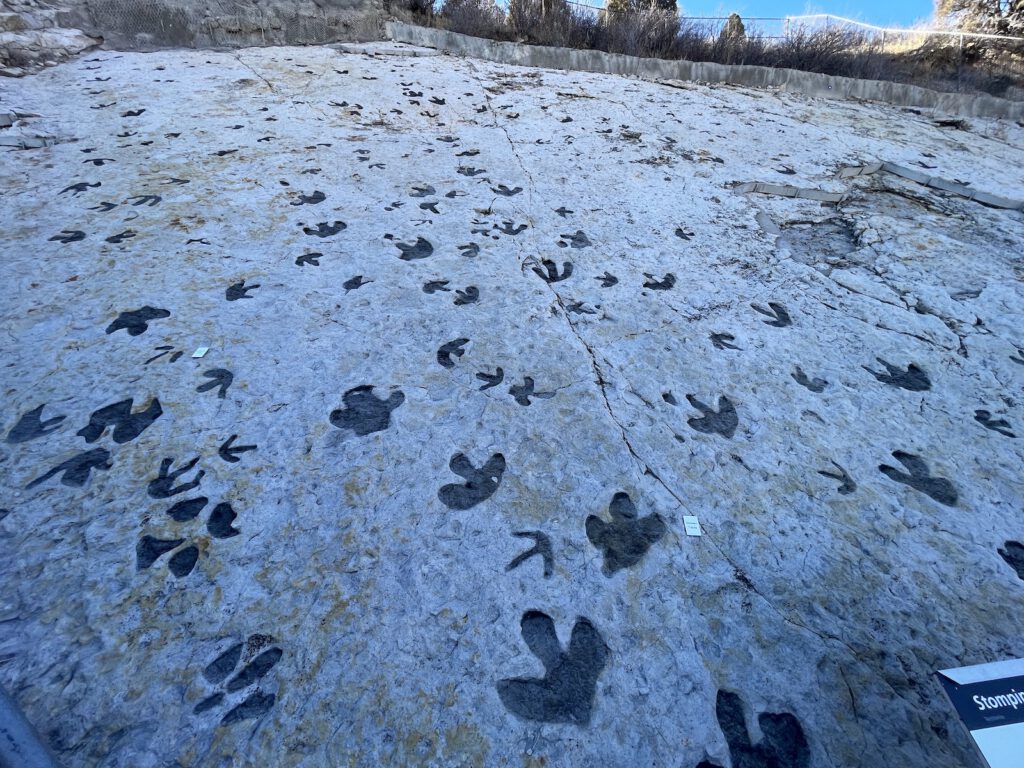 That same day, we spent the early evening at IKEA, eating delicious meatballs and shopping in their Swedish market. Unfortunately, they were totally sold out of the best item of all – elderflower juice. So sad! But we did bring home kaviar, cheese, cookies, and candy.
After IKEA, we headed to the Chriskindlmarket in downtown Denver. This was a true highlight that we hadn't even planned. One of our friends suggested it just a few hours earlier that day, and what a gift. It was cold but so much fun! Not as great as in Europe or in Leavenworth, but pretty close. Spiked spiced wine saved us in the freezing night, and also did some crafts shopping.
Day 2 took us driving around Denver, visiting University of Denver, eating lunch at In-N-Out Burger and then touring Hammonds' Candy Factory. Hammond's was pretty cool, but when you've been to the candy factories in Europe where you get to make your own candy, then this was a bit of a disappointment. Fun nonetheless, but still didn't reach the bar. Whether that was because of COVID restrictions, I'm not sure. It didn't seem like they usually let the visitors make candy before COVID either. Anyway, it made for good candy shopping, so we walked away with gifts for friends at home.
Day 3 had us driving to the town of Golden, just half an hour west of downtown Denver. It's a really cute little western mining town that has a charming feel to it. Coors brewery is located here, and we've heard the tours are great. However, as many other things, the Coors tours were canceled because of the pandemic. I'm not a Coors fan anyways, so we enjoyed sampling the craft beer at Mountain Toad Brewing instead. Then we toured Colorado School of Mines followed with a late lunch at Woody's Wood Fired Pizza. Woody's sure hit the spot! We loved that place! The food was great, and what can go wrong with a salad and pizza buffet for $15?! Our waitress was really sweet too! Definitely a restaurant I would visit frequently if we lived in the area. Something highly recommended in Golden, other than lunch at Woody's, is to visit the Mines Museum of Earth Science. It's located on the school's campus, but open to the public. Really interesting history of the mining in Colorado, and plenty of fabulous rocks, minerals, fossils, and gemstones to marvel at.
Then we were off to the mountains! Breckenridge, here we come! We had 3 full days of skiing and enjoyed every moment of it. It snowed while we were there so we got fabulous powder. Just a few days earlier they were relying on artificial snow, but we were lucky to get the real thing. The village of Breckenridge was also great! The beers at Broken Compass are among the best beer I've ever tasted. The fact that dogs roam around freely inside the brewpub only makes things better. Other than that, spend a few hours walking down Main Street, but try to avoid the touristy stores. Also, don't forget to visit Isak Heartstone.
Now the less good thing about our Breckenridge visit. The hotel we stayed at was a huge disappointment, to say the least. You can read more about that hotel here. And getting our rental equipment was also a major pain. At no other ski resort have we waited 2 hours to get our equipment. It was a total mess in there. Apparently, our experience was limited to the ski rental shop at Beaver Run Resort. We heard from others that rental establishments closer to the village was a much better experience.
Leaving Breckenridge we encountered quite the snow storm in the mountains. A drive that normally takes 1.45 hrs ended up taking at least 3 hours. We were so happy to have a car with AWD. We passed numerous cars struggling to make it up the hills, and some semi-trailers even had to be towed or wait it out in the shoulder lanes. Oddly, we even saw a truck push another truck up the mountain. Fortunately, nothing major happened and no one seemed to have been in any accidents. Again, if you are driving in Colorado during the winter half of the year – make sure you have an AWD vehicle!
After our snow adventure, we headed to the Cherry Creek neighborhood of Denver for some rest, relaxation, and shopping. We opted to stay at The Jacquard Hotel, which was located in a great area, within walking distance to the upscale Cherry Creek shopping center. We also enjoyed a dinner with relatives at the historical Cherry Cricket.
Our stay in the Cherry Creek area was the tail-end of our trip, which meant we started winding down and just hanging out, not doing anymore sightseeing. Just rest, eat, and shop!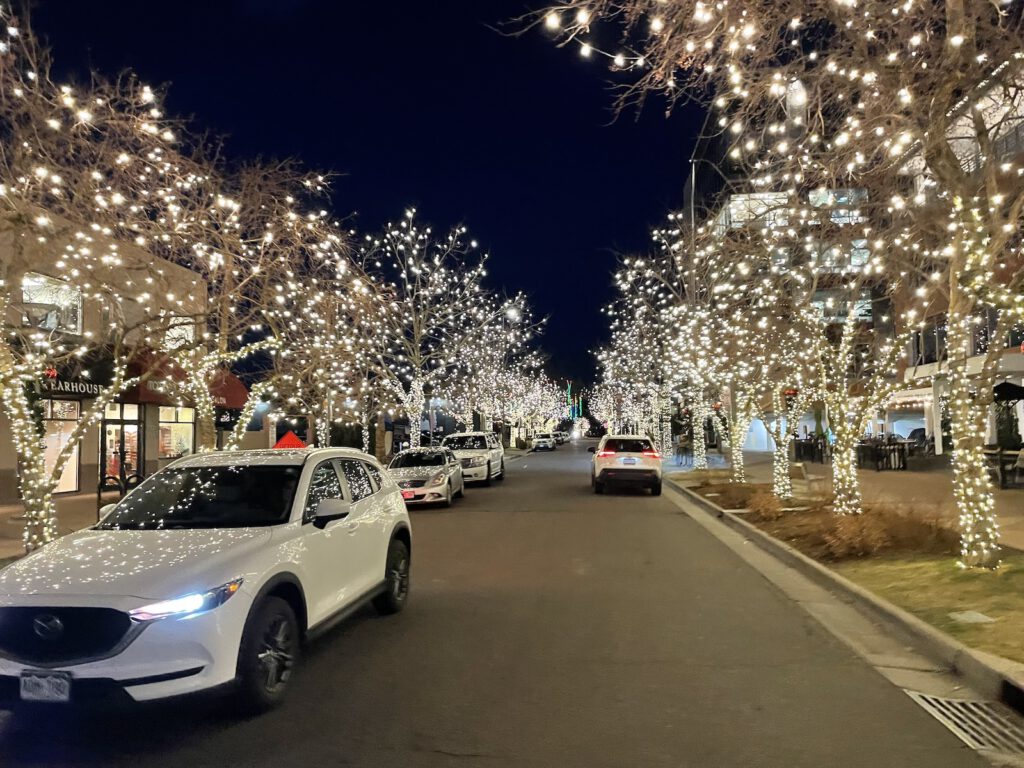 breckenridge, colorado, denver, dinosaur ridge, golden, resort