Pacific Northwest Road Trip
It can't be denied that we love the Pacific Northwest. It's definitely on our Top 3 destinations for family vacations. Usually we stay in the Seattle area, but this time we decided to take a winter road trip through Washington State up to Canada and then back.
Road trips have always been part of my life. As a child, my parents would always take my brother and I on their road trips. There are so many benefits hitting the road with a car or van. It might take long, but you are in control of pretty much everything. Where to go, when to stop, how fast to go, how much to bring, etc… and you see so much of the surroundings.
Leavenworth is a Bavarian themed village and our first stop. The town is in the middle of Washington State and we have visited before, but in the summer. The town is famous for its Christmas celebrations, so this time we made sure to make it a holiday destination. It's a 2-3 hour drive from the Seattle area, depending on traffic and weather.
I'm not going to go into too many details about Leavenworth, but other than the Bavarian alpine feel, holiday lighting, and great food, there's also a very interesting Reindeer farm that's very educational and fun.
Most visitors leaving Leavenworth, return back to the Seattle area. However, we decided to explore some of the Washington countryside. From Leavenworth, we planned to drive north through the State, cross the border into Canada, and end up in Sun Peaks – one of our favorite ski resorts.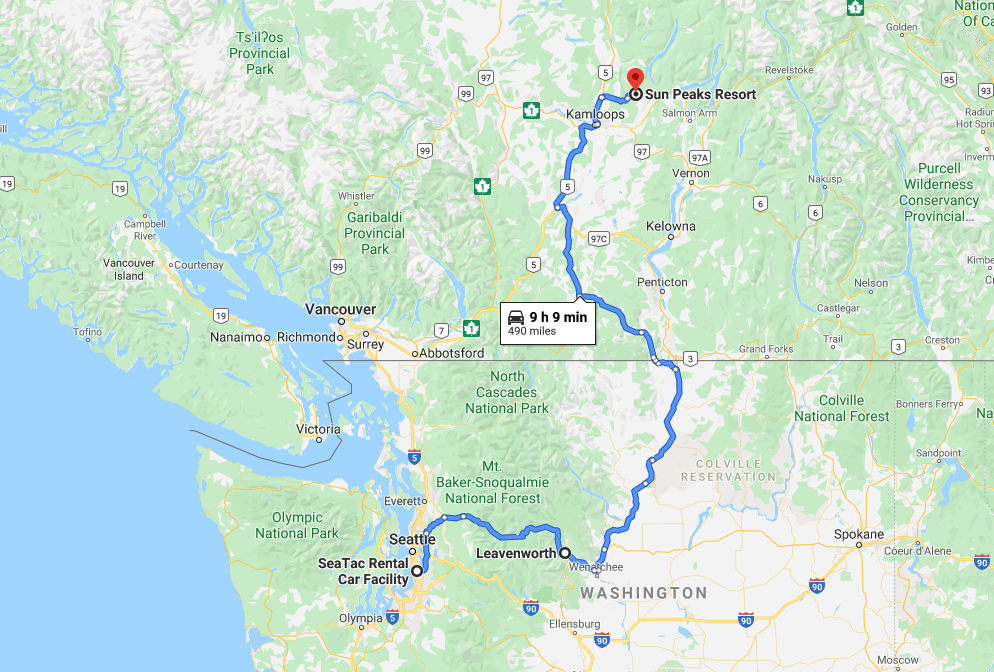 Wow, what a great….. and scary decision! The drive on Highways 2 and 97 between Leavenworth and the Canadian border is breathtaking. Such beautiful nature and impressive wildlife. Eagles, hawks, big horn sheep, deer, etc. There's not much civilization, so you really take in all things natural.
Just before we reached the border we came across an old forgotten mining town called Oroville. Trust me, if you drive a brand new minivan like we did, you'll stick out. I imagine the area is quite beautiful in the summer time, but during our winter trip, it was empty, icy, and eerie. In hindsight, maybe we should have asked someone for winter tires at this point, because we didn't know what was coming next. But we just stopped for gas and continued on.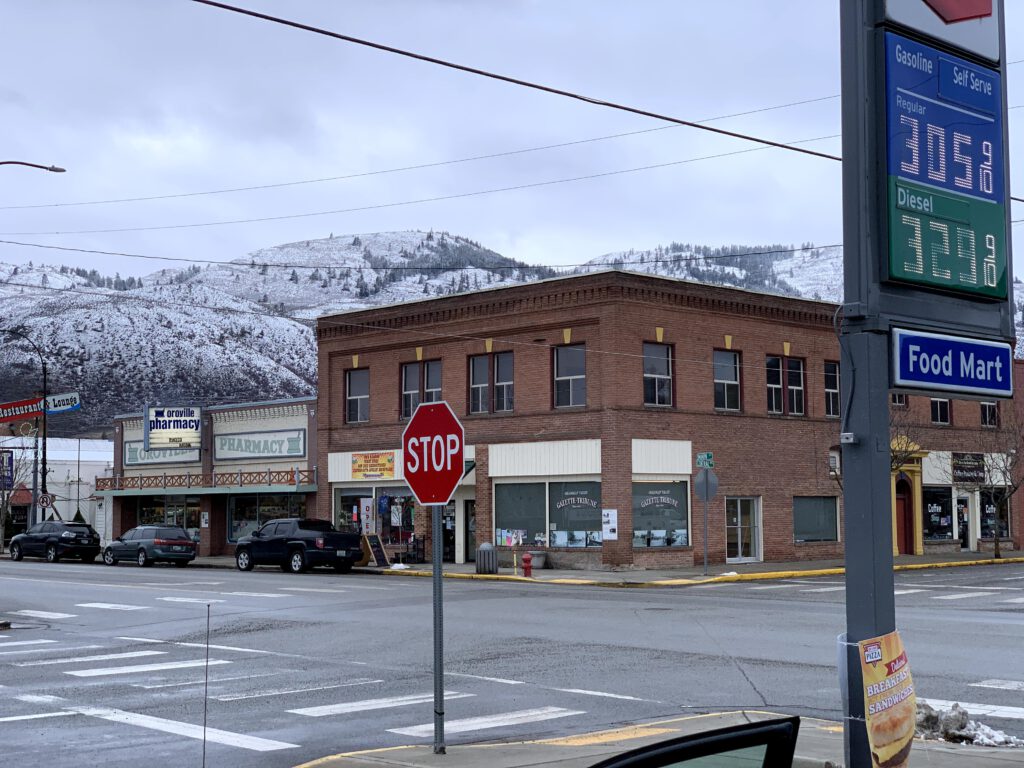 The distance between Oroville and the Canadian border is only 4 miles (6.4km), but it felt like 20. The road was small, winding, and alternating between being covered in snow and ice. As a driver, I was terrified to slip off the road. As passengers, they were scared of something happening to the car because there's nothing other than soaring eagles for these 4 long miles. On this country road, we didn't pass a single house or car – only an abandoned mine. It could have been a scene from a horror movie.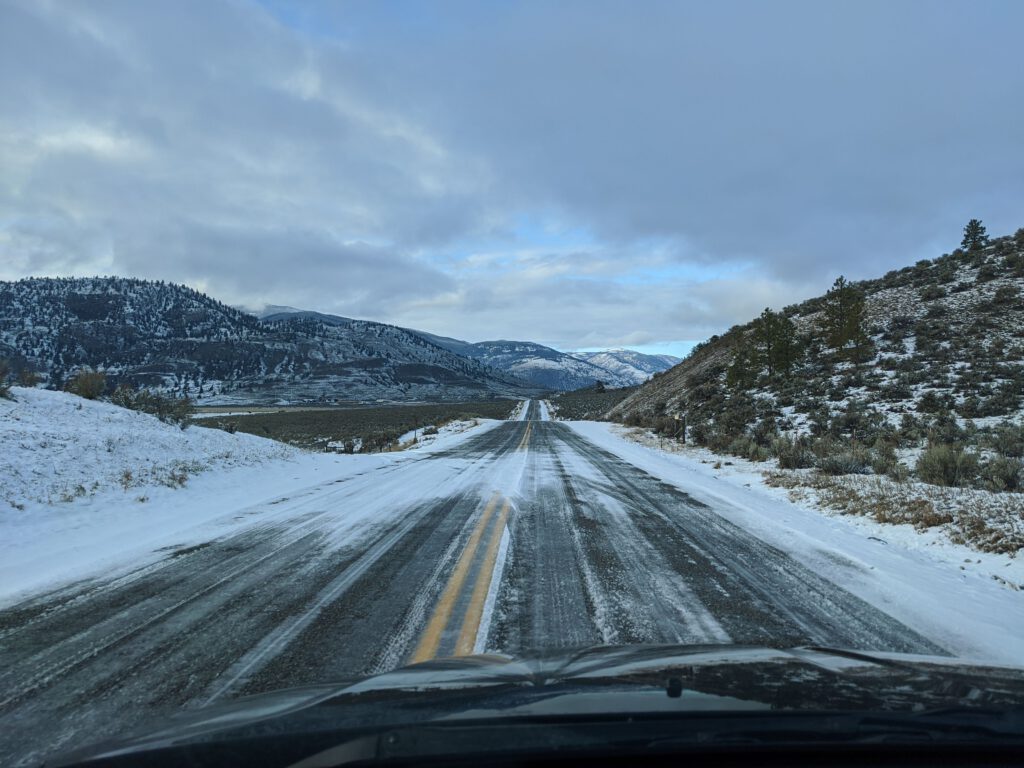 Fortunately, Lady Luck was with us, we made it safely to the border, and had a good laugh when we saw the border crossing. Only an ordinary house with a border agent that took his time to drop what he was doing and come out to greet us. He was actually surprised to have someone come by.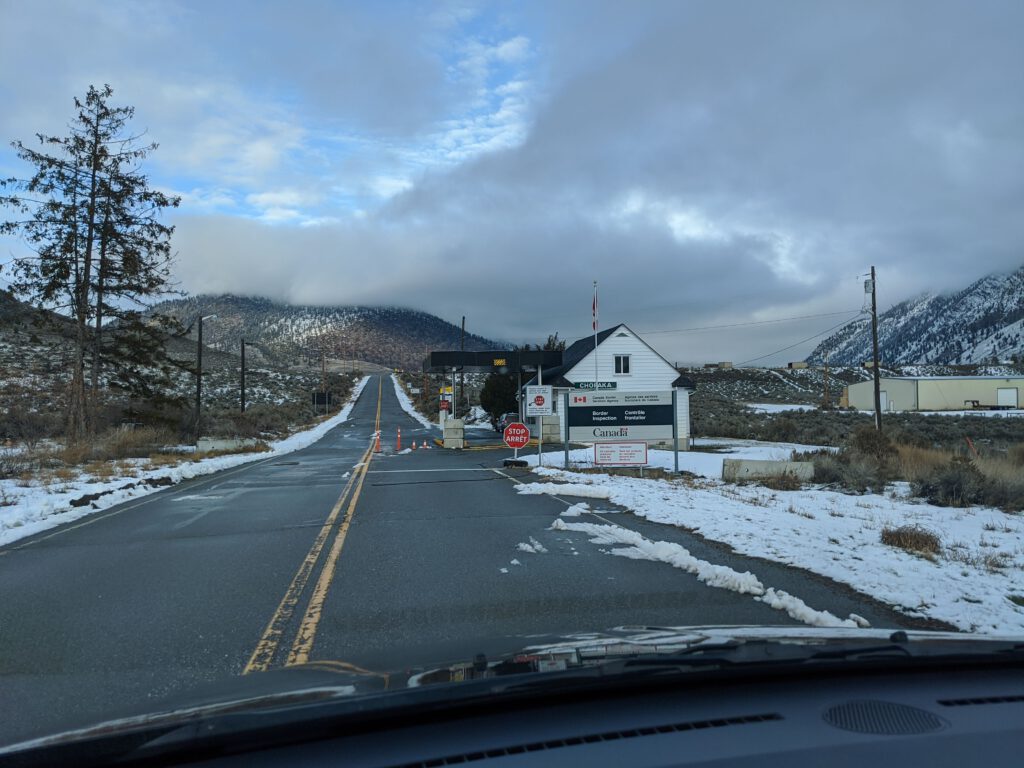 Once on the Canadian side of the border, the driving was a breeze. You could really tell which government spends more money on roads. Maybe it has to do with business. While the American side had nothing, the Canadian road was lined with apple orchards. We stopped by one of the markets and bought a full bag of delicious apples for only 5 Canadian dollars. Since it was off season, the choices were limited. I wouldn't mind coming back during harvesting.
From the border to our final destination Sun Peaks is around 4.5 hours. However, since it was nearing the end of daylight, we planned to spend the night in Kamloops, which is a regional city a little over 3 hours from the border. Not knowing the road conditions, we didn't want to drive the Sun Peaks road in the dark. Fortunately, our favorite BC brewpub is in Kamloops, so we booked a fairly cheap hotel nearby. However, first we had to endure the drive to Kamploops. I was expecting it to be easy driving, but there was one section just north of Princeton that was covered in snow, so we had to drive really slow. The big reward: we got to see a Lynx standing on the side of the road, as much surprised to see us as we were to see it.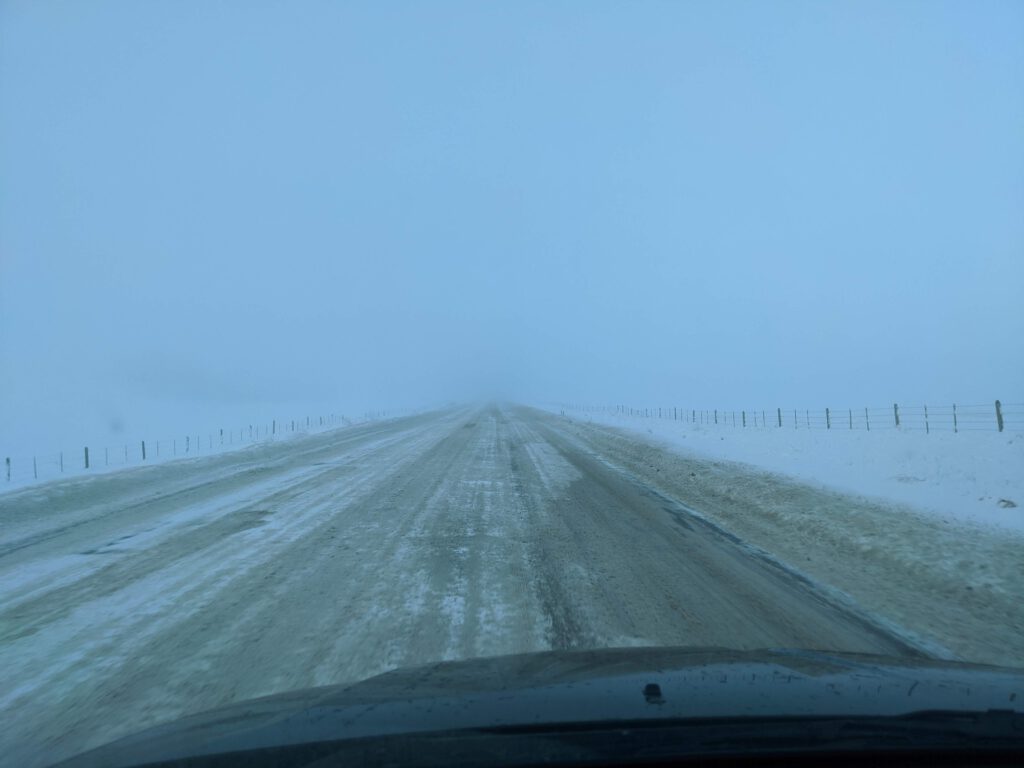 Ok, overnight in Kamploops, eat breakfast, and then eagerly on our way to Sun Peaks for cold fresh powder.
Sun Peaks is so much fun. It's not the first time we've written about the place, and most likely not the last time either. After a week in Sun Peaks, it was time to head back to Seattle for our flight home. We took the normal route back, which we've done before, so not many stops, other than tax free shopping at the busy Abbotsford/Sumas border crossing.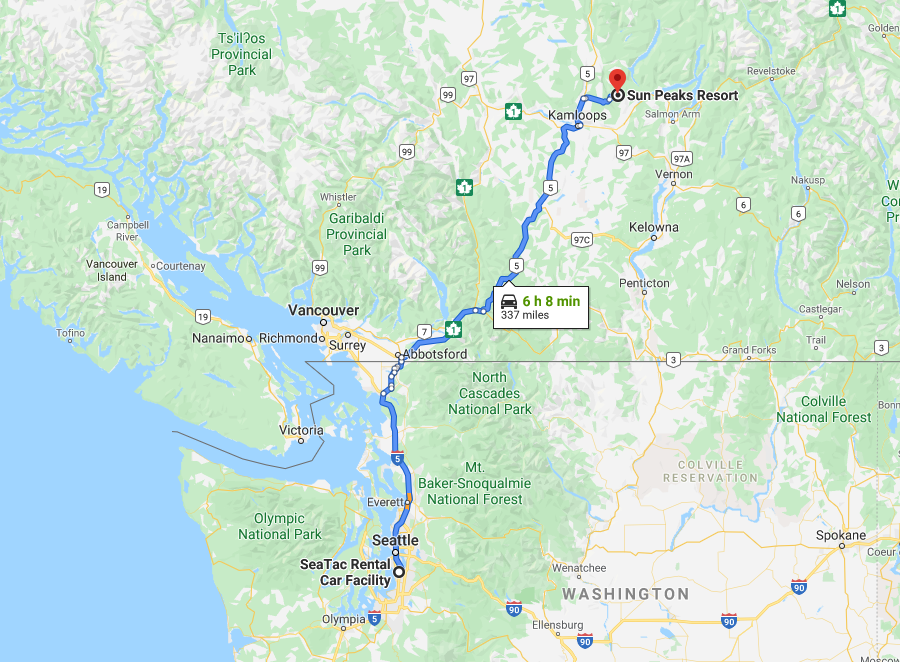 One last photo that put a smile on our faces. As some of you might already know, Seattle is a very dog friendly city. That shows even at the Sea-Tac airport, where they have a cute rest area for doggies.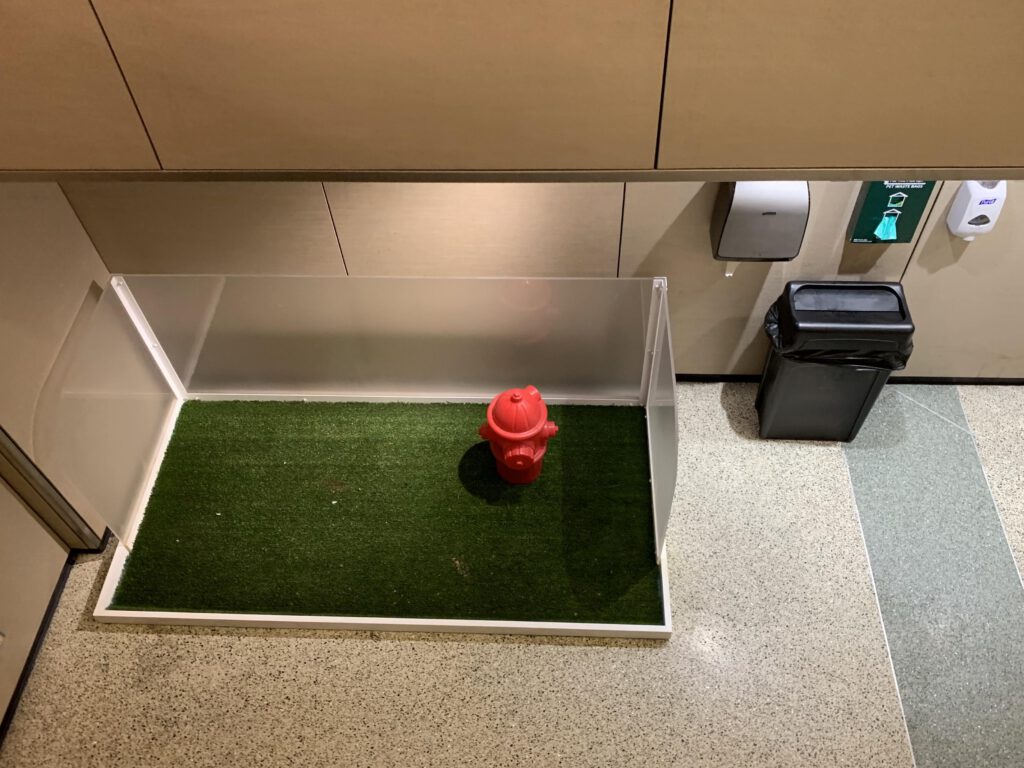 Until next time! Bon Voyage!
canada, kamloops, leavenworth, pacific northwest, road trip, seattle, sun peaks, washington