Dormy Inn Hotels in Japan
Japan is one of our most favorite destinations when traveling abroad. With friends and family there, and relatively easy to get to, I'm surprised we don't go there more often. However, we've been there enough times to feel comfortable and to have seen different parts of the country.
One thing I used to feel intimidated by when planning our Japan trips was to book our hotels. There are a lot of independent hotels in Japan that either don't have their own website, or it's not published in English. Also, unless you call a major hotel in Tokyo or other popular tourist destination, it's hard to find someone that speaks English. Often we've had someone else book for us.
That's not the case anymore. After having spent time in Japanese hotels ranging from the very budget friendly Comfort Inn all the way up to the pricey and premium Tokyo Disneyland Hotel, we have found the sweet spot – a hotel chain called Dormy Inn. First, when someone suggested it to me, the name made me think it was a hostel….my mind thought of a dormitory. That quickly proved not to be the case. Starting with a website in English.
Dormy Inn has hotels in both Japan and Korea. We've only stayed in the Japanese ones. Some day we'll make it to Korea and I'm sure we'll look at Dormy Inn.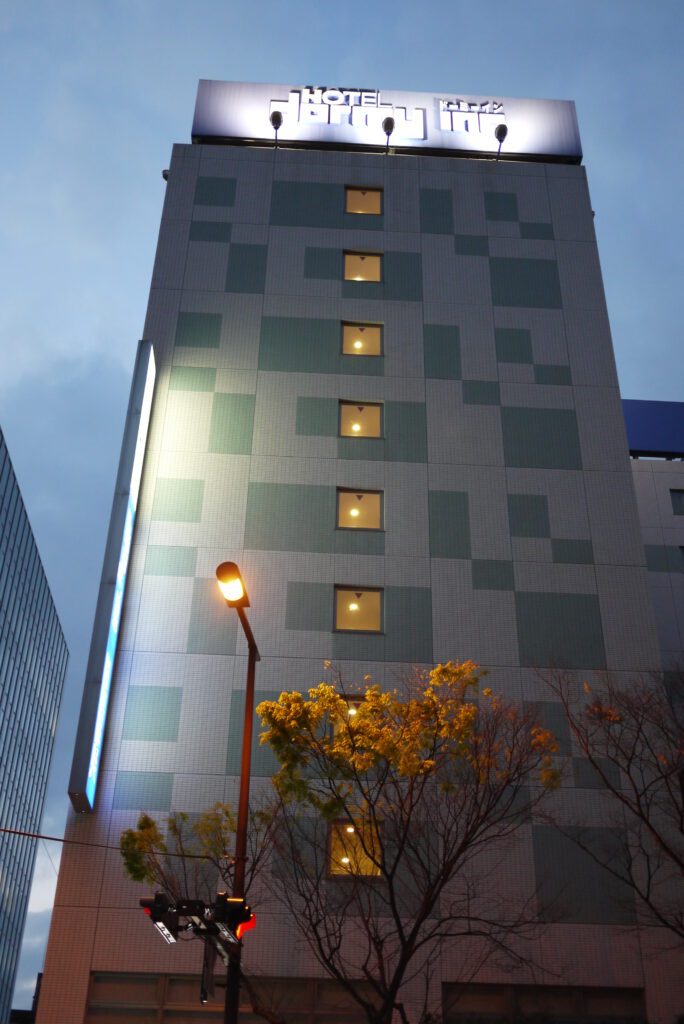 Dormy Inn hotels are priced in the range $100-200 per might, which to us is very reasonable. They have a "Premium" line of Dormy Inn hotels that are closer to the $200, although we didn't notice much difference between a regular and a Premium Dormy Inn other than slightly larger room and free beer.
Speaking of free. One trademark feature of Dormy Inn is free ramen every night at 9pm. No matter which Dormy Inn you are staying at, you'll be able to get a free simple bowl of ramen every night. Our first stay at a Dormy Inn was in Fukuoka, and our young son loved the nightly ramen before going to bed. It made it his favorite hotel in Japan, beating out the Tokyo Bay Hilton. Nearby the Fukuoka Dormy Inn, there's a nice small buddhist temple to visit, especially during cherry blossom season.
When we stayed at the Premium Dormy Inn in Kanda, we not only enjoyed the nightly ramen, but also the free Asahi beer. Since my son likes anything engineering, I ended up drinking a lot of them, just so he could see the cool Tornado dispensing machine over and over again. See, they filled the glass from the bottom, not having to worry about the head. Btw, many people overlook Kanda when going to Tokyo. Yes, it's not a very happening district. However, we really enjoyed it. It was quiet and nice, with walking distance to Akihabara and one train stop from the main Tokyo station. The Premium Dormy Inn ended up being a great stay for us during our last trip to central Tokyo.
The one thing we appreciated after having traveled for a week already was that they had a laundry room to freshen up our dirty clothes. It was very easy to use, just get the tokens and detergent from the front desk. Having a convenience store on the bottom floor is also one of those things you cherish. In all Dormy Inn hotels we stayed, they either had a 7-Eleven or a Lawson store near the lobby. I'm a sucker for Japanese snacks.
No matter what hotel you stay at in Japan, their breakfasts are amazing. Even the cheapest little hotel has a good breakfast. Dormy Inn does not disappoint either. We really enjoyed their breakfast buffets. Make sure you get that included in your stay. Knowing that they are a chain throughout Japan that we can count on, I'm sure we'll stay with them again. Btw, this might sound like a sponsored post, but I promise it's not. We truly enjoy this hotel chain.
Oh, and I almost forgot. Most Dormy Inn hotels also have an onsen. We never used them, but I know people who really appreciates that amenity.
Enjoy!
accommodations, dormy inn, fukuoka, hotel, hotels, japan, ramen, tokyo