Hilton Denver Inverness
This Hilton resort is actually also a country club (golfers will recognize the significant Inverness name) that I just happened to come across when looking for a hotel in Denver. Odd thing is, we were looking to go skiing, not golfing.
Being a golf resort, the peak season for the Hilton Denver Inverness is obviously during the warmer half of the year. That's kind of why it caught my attention. I figured, if winter is slow season, maybe that's a good time to go. I was also drawn to the fact that other people had pointed out this hotel having nice Christmas decorations, and we were there just a few days before the holidays.
The parking lot is relatively large, it's self parking, and it's free – that scores a lot of points in my book before even stepping into the lobby. We were greeted by a really friendly and cheerful guy named Matt, who was there every day greeting us as we walked in and out of the hotel. He put a smile on our face every day. The front desk and restaurant staff were great as well.
The Hilton Denver Inverness has a large lobby with plenty of seating and even a table top space for individual laptop work or working in group. It's a spacious and open design, which made us feel good now that there are harmful airborne viruses plaguing our world. Near the lobby there's a restaurant open for breakfast…excellent buffet!
The room was a spacious and clean typical Hilton room. Nothing fancy but clean and decently sized enough for a family of 4. We had a nice view of the driving range, golf course, and the private jet Centennial airport in the distance, which we didn't hear any noise from. Spectacular sunrises every morning!
On the bottom floor under the lobby, we found a pool, hot tub, fitness center and my favorite type of restaurant….Breckenridge Brewery. Although we all thought the chef should go easier with the salt, I found myself sampling all their beer while the kids had fun playing pool, chess, shuffle board, and other games the restaurant had to offer. A great family hangout, and the food would have been just as great if it was less salty. I know that's how they get you to drink more beer, but it was way over the top for such an establishment. If you want something for the beer, definitely try the brisket nachos….large enough to share with a friend.
We learned two things when staying there…. the flower looking solar panel you see in the top image follows the sun and is used to charge all golf carts. What a splendid idea! And… Denver people like to play golf even though it's dead winter and freezing temperatures. Talk about hard core golfers!!
Bonus tip: This hotel is super close to IKEA….just a 5 minute drive away. 🙂 In fact, if you get a room on the opposite side of ours, chances are you'll see it.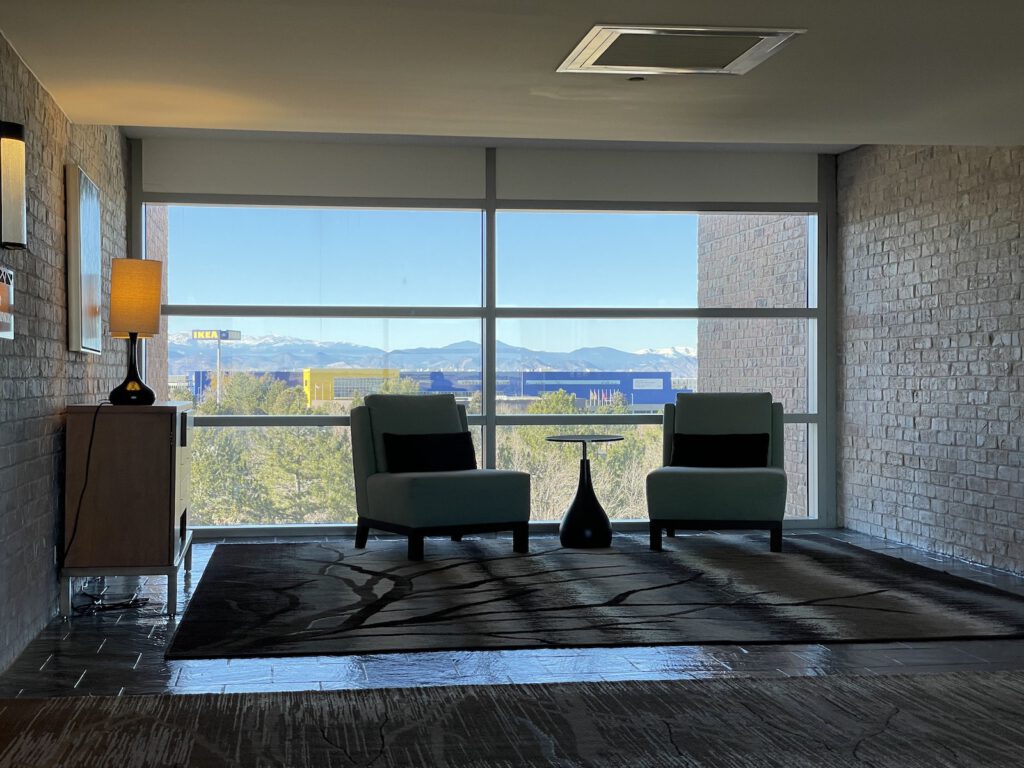 All that said and being satisfied overall, I was a bit disappointed that being a Diamond member and it being slow season, that we didn't get upgraded to the executive floor.