DoubleTree Breckenridge
Going skiing in Breckenridge has long been a wish, and with the pandemic preventing us from our usual Canada trip, it was the perfect time to stay within the borders. And why not drop some of our Hilton points on the DoubleTree.
During ski season, the rates at the DoubleTree in Breckenridge can go as high as a Four Seasons elsewhere, which is crazy, but I thought with such high rates that the DoubleTree brand would have some tricks up its sleeve, so I used points to get half of our nights at a more digestible rate. Boy was I wrong! Yes, the location in this popular ski resort is great. You just cross the street and you are on a slope down to the lift that takes you up the mountain. And yes, Breckenridge is pricey in general. But everywhere else it just fell flat…and even failed miserably.
We arrived and got early check-in due to our Hilton status, which is standard. We didn't get any upgrade, but that is kinda expected during the holidays at a busy resort town like this. But after walking through a fairly nice lobby and reaching our room, it just went downhill…
The rooms are dark and dingy. It felt like we were in the dungeon. The lock on the balcony door was broken, so I called the supervisor on duty and asked for another room. He said the balcony doors are broken in all rooms and instead of fixing the locks, they installed metal bars which when engaged, keeps the door from being opened. There was trash spread on the roof outside our balcony. The supervisor said he would have that taken care of, but never did, and eventually it was covered with snow. I guess he considers it "out of sight, out of mind". We didn't! The bath tub was chipped upon a repair. There was an incredibly funky odor in our room. I suspect it was mildew or mold, and it caused our allergies to flare up. As soon as we left the room, we had no symptoms. I don't even want to know what was in the room that caused such an odor. The carpet was gross! The bath tub drain was clogged with hair, but to the maintenance guy's credit, he took care of it promptly. The fridge in the room was broken. Instead of a night stand, they just placed a chair next to the bed. There was no trash can in the room – only in the bathroom. Between the shower and the sink, we only had one soap – had to get more from the front desk.
The elevator was broken in one of the towers, so some guests had to carry their stuff up multiple floors each day. As soon as the elevator was "fixed", it only took an hour until it was broken again. This was a constant fix/break cycle during our whole stay. The ceiling in the restaurant had a pretty severe water leak, and one of the hallways had a minor leak. And how about some spell check on your signage?
Two weeks before our stay, we wanted to book a Christmas dinner in their restaurant. The lady we spoke with on the phone said they would have a Christmas EVE buffet and that they would only have regular menu on Christmas DAY. Whether it's Eve or Day didn't matter, so we had her book our party for the Christmas Eve buffet. When we showed up on the Eve, the host said they don't take reservations AND there is no Christmas Eve buffet…only a Christmas Day buffet. First of all, I know I heard correct on the phone and I know they told me Eve on the phone. Secondly, a family came in after us and told the host the exact same thing, so I know I didn't misunderstand the whole thing. The wait staff acted like they were hired the day before with no experience or training. The menu said our meals would include pickles and corn bread. When it didn't show up, I asked our waitress and she was dumbfounded and had to go ask the chef. I also had to tell our poor waitress that dinner plates should be removed from the table before they serve desert. She had no clue! As I looked around, this was a common pattern among all wait staff. As we exited the restaurant after the dinner, the host stood silent with a blank stare in her face. There was one waitress that stood above the rest, her name was Lily and we only saw her at one of our breakfasts. I wish she was our host and waitress every shift.
DoubleTree is known for their cookies. In fact, they proudly advertise things like "We have cookies" and "the cookie is only the beginning". At all other DoubleTree hotels I've stayed at, you get a cookie. That's just a fact! But at this DoubleTree in Breckenridge, we had to ask for cookies and they still didn't have any during our entire 4-night stay. I don't care much about cookies, but some people do, and it's the principle. They did have hot chocolate in the lobby, but stored in re-used coffee canisters, so our kids couldn't stand the taste.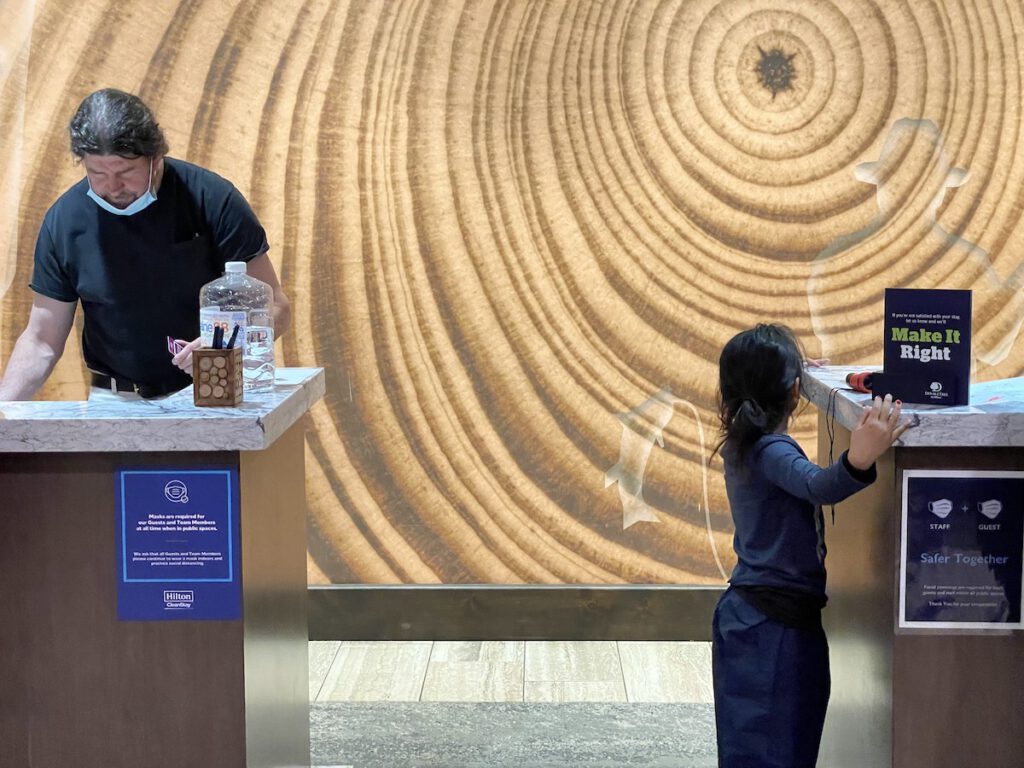 Sorry for such a negative review, but it was terrible. It would be bad for a $100/night hotel, but this DoubleTree charges $500-800 per night during the holidays. Totally unacceptable!!
I tried and tried to find something good to say about this hotel, and I think the only thing other than the great location is that we did sleep fairly well at night, which was probably due to the altitude and active lifestyle. Oh, and as much as we disliked the room, it was pretty spacious and accommodated all our ski gear. Hilton really needs to shut this property down for repairs and renovations as well as replace all management. Anything else is unacceptable!
Being a Diamond member with Hilton, I usually only have good experiences. However, after this I'll definitely hesitate to book a DoubleTree property again. I know others are decent, but the experience will linger in my mind.
Here's to a great 2022!!