The Kahala Hotel & Resort, Honolulu, Hawaii
The beauty of living in Hawaii is not only the friendly people, pleasant climate, and having access to world class resorts, but also the ability to utilize "Kama'aina rates" – that is, discounted pricing only available to residents of Hawaii.
On a recent weekend, we were able to get a great rate and stay at The Kahala Hotel & Resort on the outskirts of Honolulu, Hawaii. This resort is well-known and admired by locals for the history, location, restaurants, and occasional celebrity spotting. Locals love to stay The Kahala, but more so, visit the Plumeria Beach House for Sunday brunch.
When you arrive at the resort, you get a feeling of "old elegance" – a grand lobby with white gloved valet attendats and guests in classic aloha shirts.
The service at the front desk was fantastic, as one would expect at a resort like this. Our room was very much just as fantastic. It was large, extremely clean, well maintained, equipped for smart devices, and had a great view of the country club next door. There was even a cute cookie treat waiting in the room for the kids.
One of the first things I do when I check in to a hotel room is to inspect the bath tub or shower. I don't necessarily take long baths, but it's one area where you can tell if they pay attention to detail when cleaning. In cheaper hotels it's not uncommon to find hair, cracked subpar caulking, or drains that empty slowly. However, The Kahala Hotel & Resort passed with flying colors. As you can tell from photos above, the bathtub caulking was very impressive. I also love the classic style of the bathtub hardware.
One of the unique highlights and activities at The Kahala is their partnership with Sea Life Park. On the resort grounds, you have the pleasure to see dolphins swim around in their ponds. Not only that, you have the opportunity to participate in a dolphin encounter – that is, swimming and playing with the dolphins. It's a once in a lifetime experience that I would highly recommend to anyone staying there. If you are staying elsewhere, you could of course get a similar experience at the Sea Life Park, but I prefer The Kahala better. It's more peaceful, less crowded, and doesn't feel as commercial.
The pool area is great! It's on the smaller side compared to other Hawaii resorts, but big enough to accommodate our family during this stay. I'm not sure how it is when the hotel occupancy is maxed out though. The kids really liked the pool, and us adults liked hanging out in the sun, watching the kids splash around, and sipping on a few cocktails. They have a really great little gadget on each table that you use to call the server. It worked flawlessly. It's a great way to keep the peace and not have servers constantly running around asking if you want something.
Below are some photos from our meals. We had breakfast in the room and dinner at the Plumeria Beach House.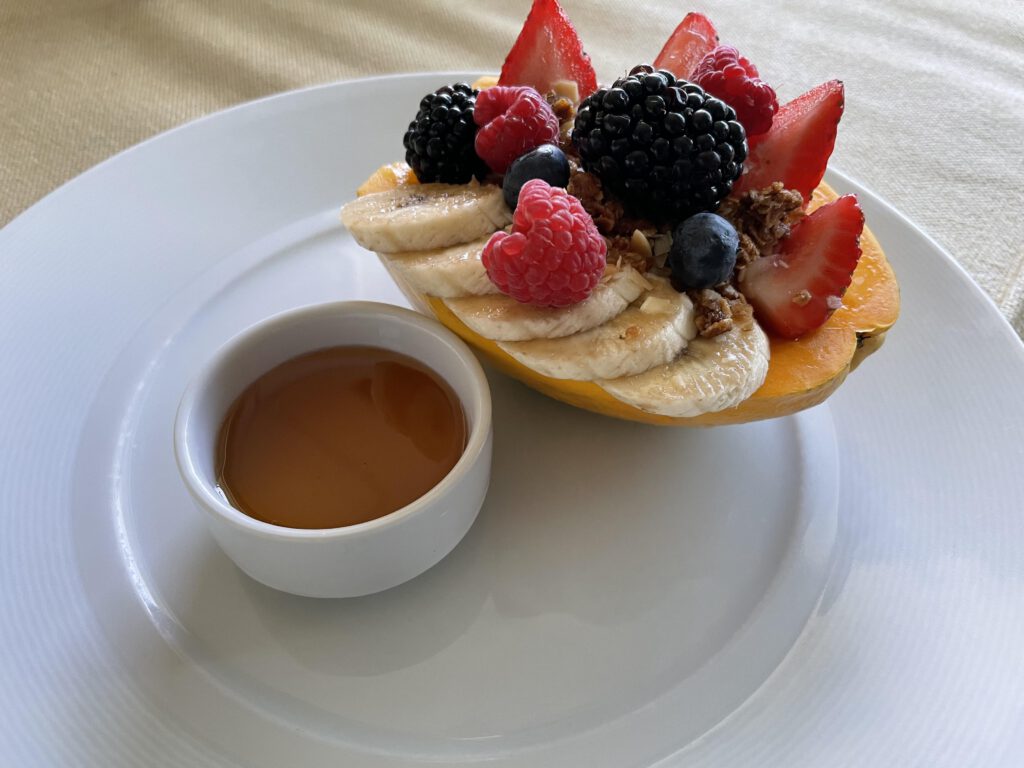 One thing that they could improve upon is the self-parking. It's pretty much non-existent. It's a small public parking garage, so you fight over stalls with regular beachgoers. Don't even bother, and just drive straight to the lobby for valet parking. We really had a good relaxing time at The Kahala. It's a great place to stay if you want to get away from the hustle and bustle of Waikiki. If you like to take long walks, the Kahala Mall is not too far away. One of our friends actually walked there in the morning to pick up coffee from his favorite coffee shop. The Kahala Hotel & Resort may be priced out of the average person's travel budget, but if we come across another deal, we'll definitely stay there again. It's a great place to recharge your energy.