Hilton Hawaiian Village Waikiki Resort
As we are heading closer to the end (hopefully) of the COVID-19 pandemic, we took the opportunity to spend a week at the Hilton Hawaiian Village in Waikiki, Hawaii. To our surprise, so did a lot of other people.
It's great to see that Hawaii's economy can recover fast, once the pandemic is behind us. Despite having been to the Hilton Hawaiian Village numerous time, this was the first time we spent multiple nights in the hotel. And if you want to explore the place, that is definitely necessary. It's a large resort, and in fact the largest of all Hilton resorts around the world. With both hotel and timeshare towers, the Village consists of 8 different towers, and total over 3300 rooms. It features the largest pool in Waikiki, numerous restaurants, exotic gardens and even a salt water lagoon. To the exploring visitor's displeasure, the Hawaiian Village was designed so that guests could get a complete Hawaiian experience without ever having to leave the resort. They can stay their entire time in Hawaii within the resort boundaries and have access to the ocean, pools, restaurants, events, and shopping. That could possibly be the case, but I can't say we agree with that concept and would highly recommend everyone visiting Hawaii to leave their resorts and even visit more than just one island.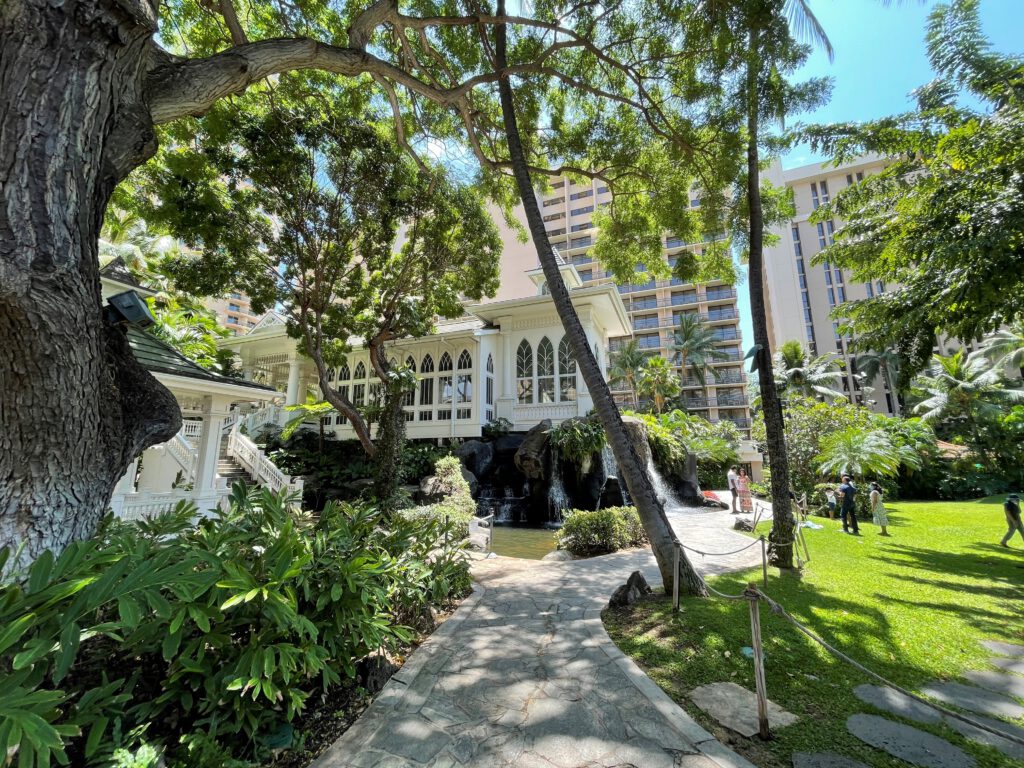 Depending on when you check in to your hotel, it can at times be quite chaotic. It's a busy village after all, and don't be surprised if you have to wait at the front desk. That said, the customer service we received was top notch. The delays at the front desk might be due to their excellent customer service. The staff is very thorough with resort details and even like what we in Hawaii call to "talk story". Throughout our stay, the customer service we received with all hotel staff was exceptional. And if you have the Hilton app on your phone, the ability to text customer service is awesome!
We stayed in the Tapa Tower, which is just behind the front desk and has easy access to some shops as well as a smaller less crowded pool. It's less crowded because it's shaded during certain hours (surrounded by towers) but if you want some peace and quiet, it's a great alternative to the super pool. It's also right next to the Tapa Bar, which unfortunately has been closed now during the pandemic. The Tapa Tower is one of the cheaper towers to stay in, but it's newly renovated and you can still get great views from the balcony. It's perfectly fine as a standard hotel. If you want a step up, check out their Ali'i Tower or Rainbow Tower.
In terms of restaurants, several of them were closed due to the pandemic. However, Rocky Teppan Restaurant is highly recommended. I've never had such high quality meats (Wagyu A5) ever before. For something more casual, their RoundTable pizza was fresh and good, and if you opt for a burger, you'll find a decent one at CJs. There was also a Japanese restaurant for those delicious Japanese fish breakfasts. That said, Waikiki is full of excellent restaurants, so you will never go hungry.
If you're done with shopping, eating, and slacking at the pool, there are some fun activities for you at the Lagoon. Those include stand-up paddleboarding, snorkeling (although slightly murky water), or jumping on a pedal bike or pedal boat. From personal experience, the pedal bikes are more fun than the pedal boats, and easier to pedal.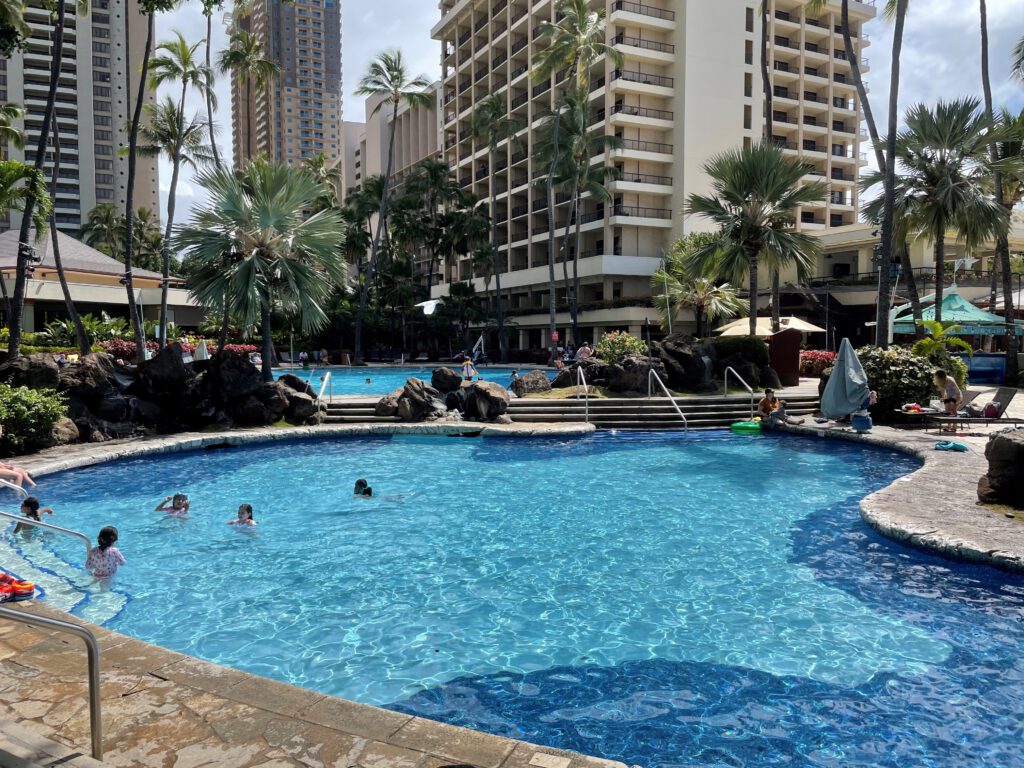 Some more pics below from various views, including yoga on the lawn. 🙂
Some things they could improve on:
1) More pillows. Not sure if it's because of the pandemic, but there was only one pillow per person in the room. It kind of makes it difficult to sit comfortable in the bed and read a book or tablet.
2) Build another Starbucks…the lines to Starbucks each morning was ridiculously long. I'm not a coffee drinker, but it will help those who are. (Btw, if you just want black coffee, the Wiki Market sells plain Starbucks coffee as well, and the lines are way shorter).
3) The hotel feels a bit dated in terms of technology. I'm used to having digital keys on my smartphone at other Hilton properties. I know this is a huge property and may take time to upgrade, but that's something they should have done when they had no tourists during the pandemic.
Sidenote: As a Diamond Member, you may look for perks. At this resort, we were able to get an upgraded room, early check-in, daily $10 credit for two guests at their Starbucks or Wiki market, as well as additional trash pickups from the room.