The Charter Hotel Seattle
When we visit Seattle, one of our Top 3 favorite cities in the US, we usually stay in the outskirts. However, during our last Pacific Northwest trip, we decided it was time for downtown.
Even though it's one of our favorite cities, we usually don't spend that much time in downtown Seattle other than go shopping (specially REI) or watch a Mariners game. We've been there so many times that we have covered all the sightseeing already. However, since we were traveling with a family who had never been to Seattle before, and who are Starbuckoholics, we thought it would be appropriate to stay downtown, close to the Pike Place Market and the original Starbucks coffee shop.
There are plenty of hotels to pick from in Seattle, but since we now are slightly partial to Hilton properties (I don't like to admit that), that's what we were looking out for. One that immediately caught our eyes was The Charter Hotel, which is part of Hilton's Curio Collection. Hotels in the Curio Collection are upscale Hilton hotels, but they enjoy their own branding. Because of this, it doesn't really feel like a Hilton property, which to you might be a good or a bad thing, depending on what you feel about Hilton.
Anyway, we had booked the hotel and drove there in our rental car. Direction-wise, it's fairly easy to get around in downtown Seattle. Streets and blocks are mostly in a grid pattern, and you can navigate with the help of the ocean to the west and hilly areas to the east. However, beware of the one-way streets and streets where you aren't allowed to make left turns.
There's some confusion regarding parking at the hotel. Some hotel staff claim you can only do valet parking, while others said there's self parking. Since we were short on time, we ended up valet parking, but I wish to someday get the parking situation clarified for when we visit next time. As you can imagine in a city like Seattle, parking is expensive. Valet parking was $55 for each 24 hours, plus tip. Whether it was a mistake or due to us having Diamond status, we only paid for one day parking, even though we parked 2 days. I wasn't going to argue that. 😉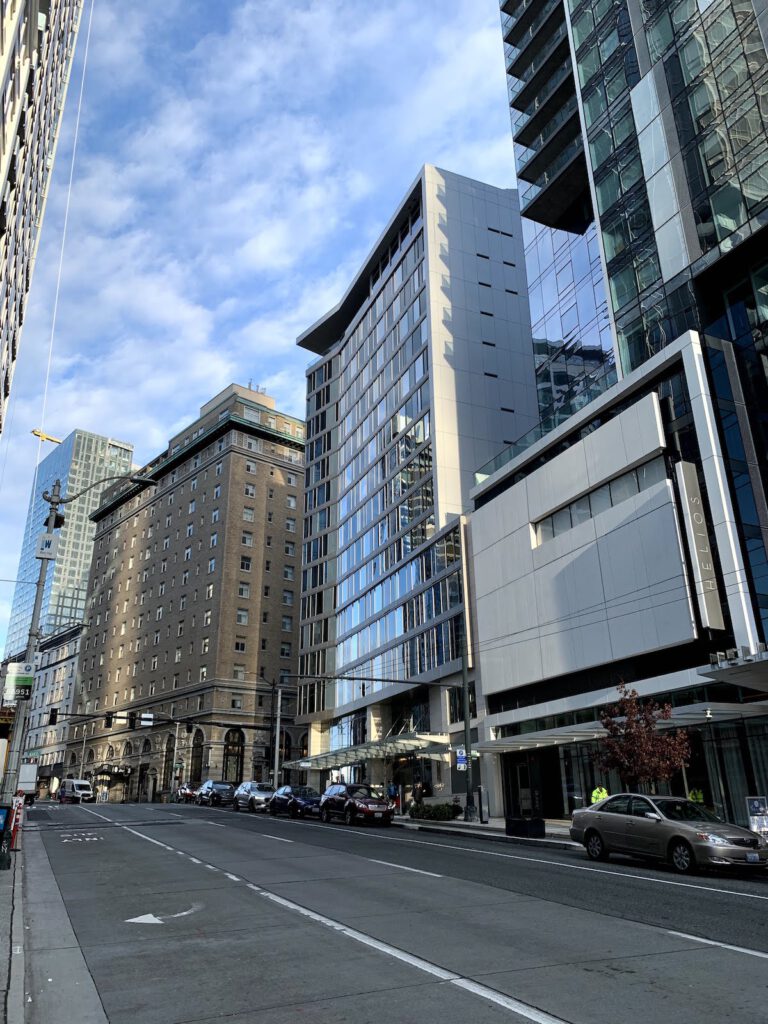 The hotel is unassuming from the street. It's very easy to miss. And I like that. We're a family who prefers modern but modest places. No limestone pillars or glamorous gold entrances for us. So The Charter Hotel was perfectly in line with our taste. The lobby and rooms felt the same….very clean and modern….high end yet modest at the same time. You can tell it's upscale by looking at the minibar. Organic chocolate, fair trade coffee, higher end liqours, etc. For some people, those are small details that make a huge difference. Other than that, the rooms are well appreciated. Beds are good and bathroom area even better. It's nice to have a separating door to the toilet so the bathroom is not limited to one person at a time. The shower is reaaaally nice….I loved it!
There are two establishments in the hotel that offers consumables. The hotel's only restaurant is in the lobby area and it's an Argentinian restaurant. The menu looked fantastic and the ambiance was great. However, we only ate breakfast there (dinners always at Anthony's), which was absolutely delicious. The other place is the rooftop bar. It was slightly different than what I had expected. I was going up there to enjoy some cocktails and relax with the view. They had cocktails and they had the view, but it was not relaxing. Even though they played music I usually enjoy, it was waaay too loud. We ended up having a beer and nuts and then back to our rooms. If it had been a more relaxed vibe, we would have stayed the entire night. Their loss!
We probably won't be staying in downtown again anytime soon (our next will be on Lake Washington), but if we do, this hotel will definitely be on the short list.
Take care!
curio collection, downtown, hilton, hotel, pacific northwest, seattle, usa, washington state