Hampton Inn Boston Cambridge
We made a last minute decision to visit Boston at the end of the summer. Finding a hotel at a reasonable price was not an easy task. Even budget hotels were priced high.
Being a Diamond member with Hilton, we are always on the lookout for a great deal at a Hilton-affiliated hotel. Unfortunately, there were only low hanging fruit available. The Hampton Inns are not really our favorite, but they are at least always clean, which is important. This Hampton was also priced right and very conveniently located between downtown Boston and Cambridge. The location was actually very favorable in relation to what we wanted to do during our weekend in Boston.
After fighting the Boston traffic with all the roadwork and construction, we made it to the hotel, just to be discouraged by the really small drive-way and then told that parking is severely limited and it's on a first-come-first-service basis. Definitely something to keep in mind when staying at this hotel. We were lucky to check-in early and get a parking stall…and then we made sure to Uber around town, rather than removing our car. Didn't want to risk coming back and not finding a available parking stall in the hotel garage.
The room was the typical hotel room. It was clean, quiet, and had comfortable beds…that's all I ask for. It was conveniently located by the elevator, and despite that, we didn't hear much noise from people coming and going. We were only on the 2nd floor, so rather than wait for the elevator, we took the stairs a few times. The view was of the busy road outside and surrounding neighborhood.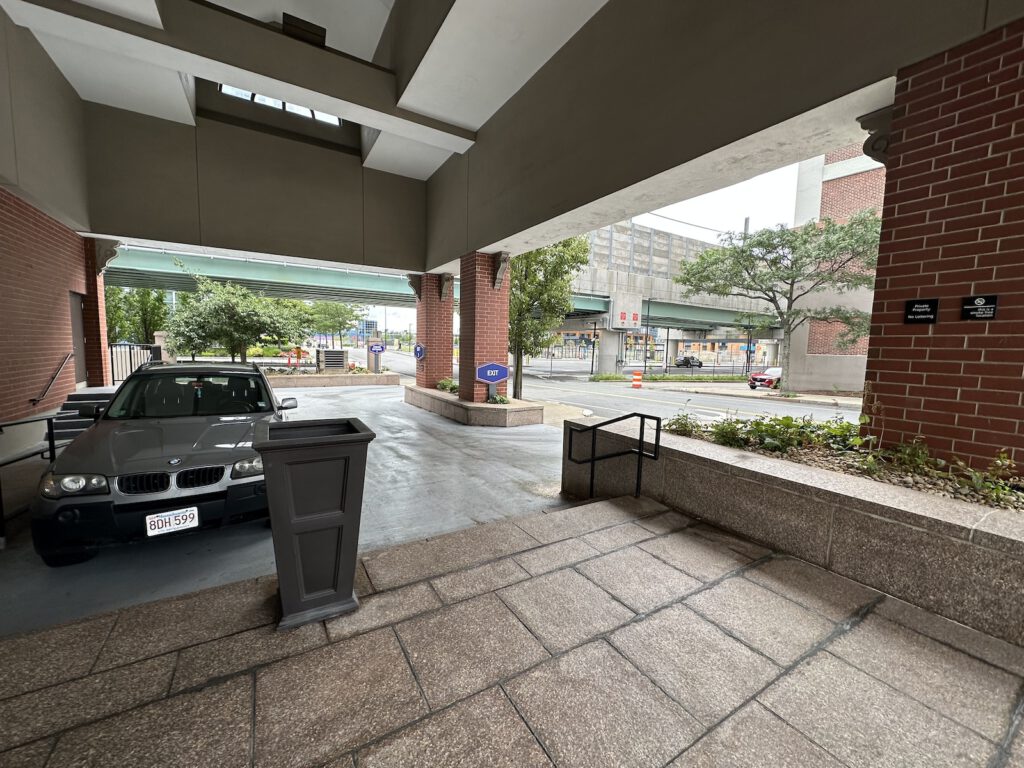 Heading down to breakfast at Hampton Inn hotels is always disappointing. I'm sure some people appreciate free breakfast, but to me I rather them just give me a proteinbar and a coffee. Paper plates and plastic utensils is a big pet peeve of mine. I can't stand it!! I don't mean to sound like a snob, but it's such a turnoff to eat with disposable utensils on a flimsy paper plate. This is also the case at the lower end Tru (by Hilton) hotel chain. And I can't imagine all the garbage that produces. Such a shame! You would think they'd have something else in this day and age. It was very much appreciate though, that they had smart furniture with charging ports conveniently located.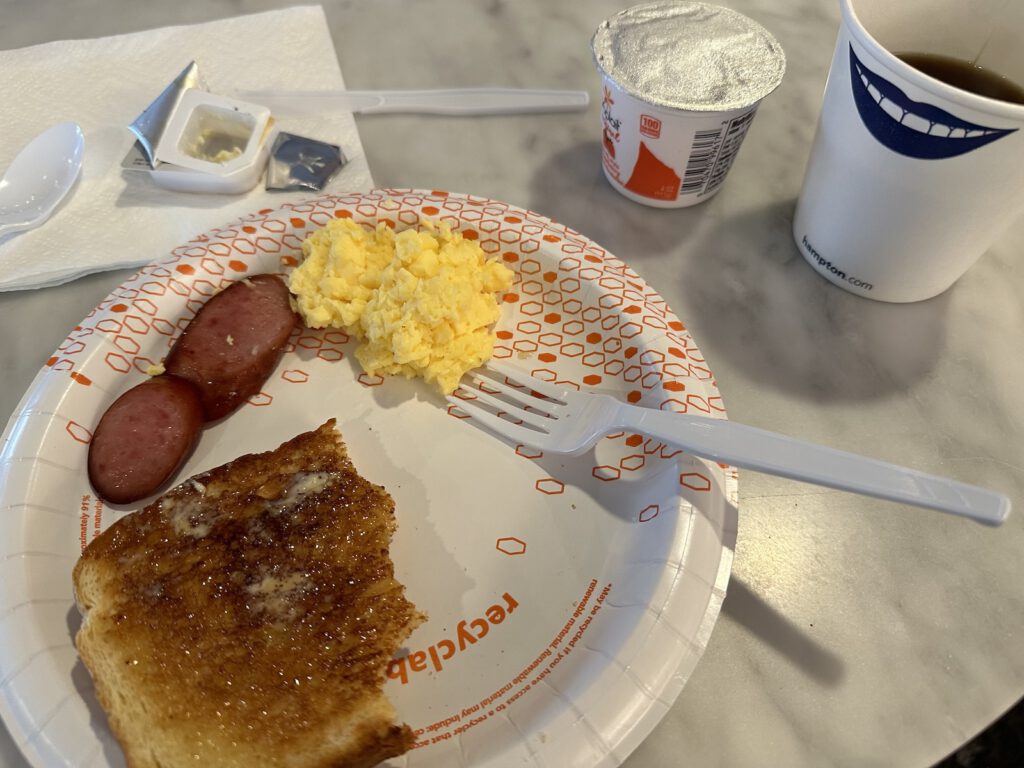 Was this hotel acceptable? Yes! Would I got back? No! Would I recommend it to someone else? Maybe, but only if they were in a pinch and needed a decent location at a reasonable price. For everything else, No!
Oh, one more thing… if you are staying here and you are a big REI shopper, you're in luck! There's a nice REI just a block away….a 3 minute walk. 🙂
Until next time! Safe travels!