Hilton Austin Texas
Live music, brisket, and craft beer. That is what I was looking forward to when flying to a conference in Austin, Texas. Since this was a business trip without family, my hotel choice was wide open. There are many hotels in central Austin. However, picking the Hilton came down to two things…
First, the Hilton Austin connects to the convention center through a sky bridge. The weather was excellent when I was there, but it could just as well been pouring down rain. Second, I'm a Hilton Honors Diamond member. That alone makes for a strong case picking not only a Hilton property, but a Hilton branded one.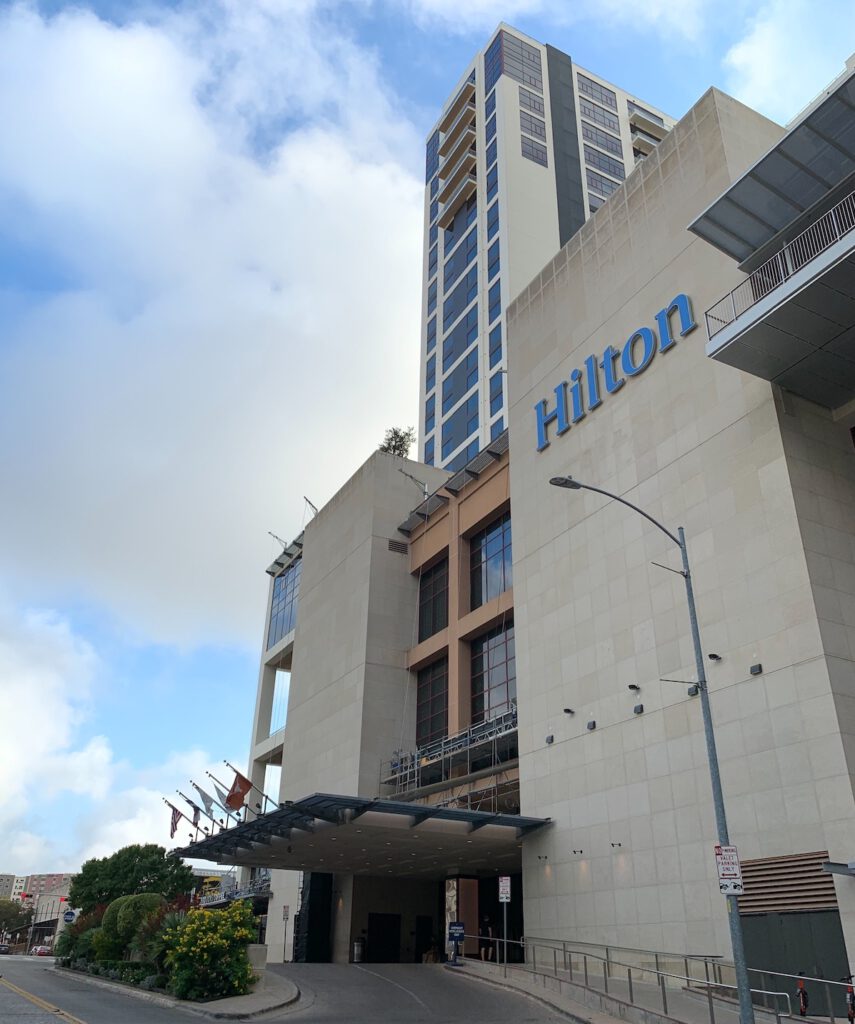 With Hilton, I've had mixed experiences in the past. They seem to vary a lot between properties and it feels like a crap shoot every time I book a room. However, after staying at the Hilton Austin, my impression of Hilton is at the highest its ever been.
It started out with my first email to them. I had already booked my airfare and upon booking my room at the Hilton Austin property, I sent them an email. See, my flight was arriving early in the morning of the first day of the conference. My intention was to at least unload my luggage somewhere in the hotel and get access to the Executive Lounge (Diamond member benefit) to get a quick bite before the first session. So I emailed them to ask if that was possible. To my pleasant surprise, the Front Desk Director responded to my email, thanked me for booking, and said a room will be waiting for me as I arrive. WHAT!!!?? Did I hear that right? Did they know I was arriving at 06:30, which is almost 9 hours earlier than normal check-in? I was stunned and somewhat skeptical. I printed out the email as proof for when I was to arrive, just in case. In my mind, I question everything.
I arrived as planned and walked up to check-in. The front desk staff didn't blink and proceeded with giving me the room key. Wow!! Talk about excellent first impression. The lobby was clean and well designed. I liked all the seating and device charging areas.
My room was also clean and equipped with the numerous power outlets one needs these days. The bed was fantastic, and so was the view of downtown Austin. I took a quick shower so I could make it to the conference in time. However, as I was leaving the room, I noticed the shower still hadn't drained. OMG! Am I gonna have to get another room? As I walked to the conference, I opened the Hilton smartphone app and noticed there was a feature to message the hotel. I did, and immediately got a response. They told me they would send someone up and fix it. And so they did. When I returned to the room two hours later, it had already been fixed. Holy moly, this hotel doesn't mess around. I enjoyed every bit of the hotel during the rest of my stay.
The hotel houses two restaurants. I have a love for tacos, so I ended up only visiting one of them…. aptly named Austin Taco Project. Tacos and craft beer is the name of the game at this restaurant and it was all good. I usually only visit a restaurant once, so I can experience more of them, but ended up going back a second time. Excellent tacos, great beer, and oh such a short walk back to my room.
While this doesn't apply to everyone, I really enjoyed the Diamond member benefits offered by the Hilton Austin. As a Diamond member, they put me in a room on the same floor as the Executive Lounge. With access to the Executive Lounge, I had free access to beverages (water, beer, wine, soda) and food (breakfast and evening snacks) pretty much all waking hours. Some Hilton properties don't have an Executive Lounge, but at this hotel it was all worth it. Thirsty? …just head over to the lounge. Hungry? …just head over to the lounge. Feel like socializing with other hotel guests? ….just head over to the lounge. No, I'm not trying to sell you the Diamond membership, but at least it was well worth it at this property.
The proximity of the convention center and so many other things (State Capitol, bars, shopping, etc) is such a fantastic benefit to this hotel. And there are numerous electric scooters parked outside that you can easily get down to the river as well.
I'm really trying to think of something at this hotel that could need improvement but I'm having a hard time. It was that good! Ok, so one thing they could improve is the signage for walking from the elevator to the sky bridge that connects to the convention center. Although it's hard to get lost, I wasn't really sure I was talking the right way. That's about it!
I truly enjoyed staying here and I'm pretty sure I'll be back, whether that be another business trip or with our family.
austin, business hotel, conference hotel, hilton, hotel, texas