Star of Honolulu boat cruise
Having lived in Hawaii for many years, I knew well of the dinner cruises departing from the famous Aloha Tower in downtown Honolulu. During our college years, we entertained ourselves on so called "Rock the Boat" cruises.
That was then, and this is now…20 years later. Instead of wild rock parties, we opt for romantic and calm holiday cruises. Last weekend was Easter, and we headed out on the beautiful Hawaiian waters for a Easter lunch cruise. There's not that much to say about lunch cruises, so I'll be short.
Getting out on the ocean is always a blessing. I love the ocean. It's so relaxing and the sun so nourishing. Upon boarding, we were directed to the floor we had paid for. There are 3 different floors and cost differently. We were in the middle, and I believe the higher you go the pricier it gets. This cruise, they actually hadn't sold any tickets for the top floor. Whether that was intentional, or that there was no demand, I don't know.
The alcohol of choice on this cruise are the tropical cocktails. They do a really good job with those. The beer and wine selection is very limited and so is the straight liquor. I love my Chi Chi cocktails as it's pretty much a less sweet version of Pina Colada.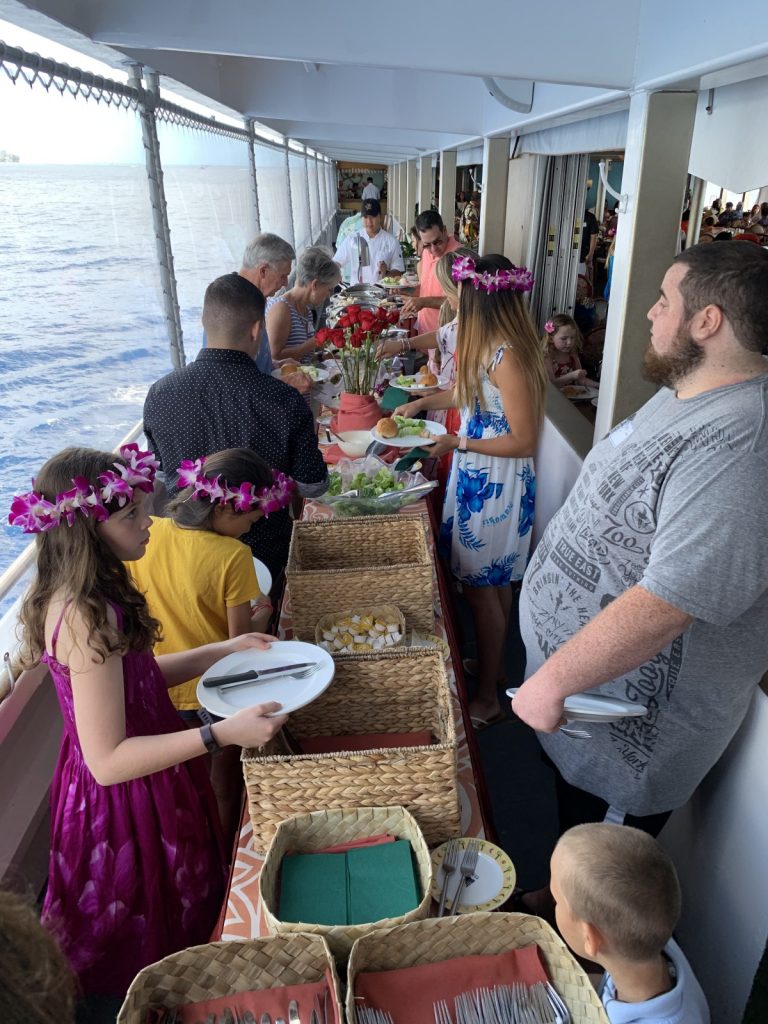 The lunch buffet was average. Nothing spectacular and also not bad. In other words, in a few weeks I'll probably won't remember what I ate. That might be a good thing, because you take the cruise for the views, not the food. If I don't remember the food, that means it wasn't bad. 😉
Once we ate, we headed up on the top deck to enjoy the sun, views, and take a bunch of photos. Our next family Christmas card will most likely feature a photo from this trip, haha.
The total trip lasts exactly 2 hours. Whether you take a lunch cruise, private party cruise, or dinner cruise….I was told they are all 2 hours long. We felt that was a good time. We enjoyed ourselves without feeling stressed or bored.
Ok, so is it worth it? Should you as visitor to Hawaii take this cruise? Up towards $100 (less for kids) might sound a bit pricy. However, I think it's worth it. At least once. They do try to upsell you with photos once you're onboard. We're not really into those kinds of things, but I know people who do appreciate those extra options. That's all up to each of you. They are very transparent with their pricing on their website. If you have time, I recommend you give it a go. Aloha!