Denmark with Kids
We both love Denmark. Definitely on our very short list of favorite countries to visit. It's so small, so quaint, so friendly, and soooo laid back. My stress level goes down just thinking about it.
Denmark is old viking land made up of a peninsula (Jutland) and over 700 islands. The largest and most populated island is Zealand (Sjaelland) and where you'll find the capital Copenhagen. I went to Denmark as a child, I went there after meeting Fiona, and we've also taken our kids there on more than one occasion. And despite its small size, we're not tired of it yet. Here are a couple of highlights from our last trip to Denmark with our kids.
Legoland
Denmark is the birth place of Lego. It all started in the small town of Billund in the middle Jutland. That is also where you'll find the original Legoland. We've been there three times and have always enjoyed it. Even though we usually visit in June, the beginning of peak season, we never felt that it was crazy crowded like it gets at Disneyland resorts worldwide. This is an amusement park for sure, but it doesn't have that overly commercial feel that you find at amusement parks in the USA.
While there are many different choices of accommodations around Legoland, I'd highly recommend the Legoland Hotel if you have young kids. Since it's attached to the park, it makes it so easy to enter the park through the covered sky bridge. You also get to enter the park slightly before everyone else. You also get access to a Lego store within the hotel and the hotels usually have freebies for kids in the rooms. Children can amuse themselves with a different treasure hunt within the hotel every night. If you miss the outdoors, there's a decent outdoor playground on the hotel property. And there are pleasures even for the adults, with a couple of delicious restaurants. My favorite part of the hotel is the breakfast buffet. I totally love it! It's nothing fancy, but everything is so fresh and delicious.
Back to the park, there are several restaurants, although I feel the food within the park is a bit non-Danish. They have a hot dog stand that we really used to enjoy. We love the "Pølse" red Danish hot dogs. But for health reasons, they stopped selling the traditional red hot dogs and now serve regular brown ones. It's not the same and quite disappointing. Anyway, that won't stop us from going here again. It's well worth it!
If you get tired of restaurants within the hotel or in the park, we highly recommend a dinner at the Refborg Hotel. Their food is very authentic, fresh, and enjoyable.
Lalandia
Giant water park in Denmark, just a few blocks from Legoland? Who would have known? And it's actually the largest water park in Scandinavia. We had nu clue about this place until someone at Legoland Hotel told us to check it out. We were all set on Legoland when we were in Billund for the first time, so the idea of a non-Lego water park wasn't that inspiring. However that changed after our first visit to Lalandia. It's an awesome waterpark and a nice break from everything Lego.
There's a restaurant area attached to the water park that kind of has a Mediterranean vibe to it. Not sure if that was the intention maybe, to get Danish people into the vacation mode. It was nice, but we would have preferred something more Danish considering we are visiting Denmark. Anyway, Lalandia was worth a visit or two, but I can see it getting tiring after more than that.
As I'm writing this, I find out that the Lalandia water park in Billund is actually their 2nd location. The original one is on an island south of Copenhagen in a town called Rødby. However, we don't know anything about that location and can't comment on whether it's better or worse than the one in Billund. If you're not planning on going to Legoland, but visiting Copenhagen, then Rødby might be a better location for you.

Ribe Viking Center
Further south on the Danish peninsula, closer towards the German border, you'll find another small town called Ribe. It's the oldest existing town in Denmark, having been established in the 8th century. Not surprisingly, they are now known for their replica viking village with full-time actors going about daily life as the original villagers. This was a truly enriching experience for our kids. They knew about vikings, but to experience it in "real life" was amazing for them. Even horrific at times, as we walked by a real mule corps that had been sacrificed to the gods.
First we walked through the village where they were baking bread and had jewelry merchants selling handmade metal jewelry and showing you how to make some of it. Then we headed to a training area where the kids could learn to the use, and fight with the viking weapons of choice – swords, hatchets, and bows and arrows.
After the classes, we continued on to watch a falcon show. That was pretty amazing as well, watching the falconers train and show off a variety of falcons. They flew pretty close over our heads as well. 🙂
This was a whole day event, and we ended it with making some crafts and then onto a modern snack and ice cream close to the exit of the village.
Skagen
The most northern town of Denmark. Skagen is know for the coastal point Grenen that is quite spectacular in the sense that when you are standing there, you see two oceans crash their waves against each other. And because of active currents, the sandy point moves and changes its size and location every year. This is an excellent place for bird watching, so bring your binoculars.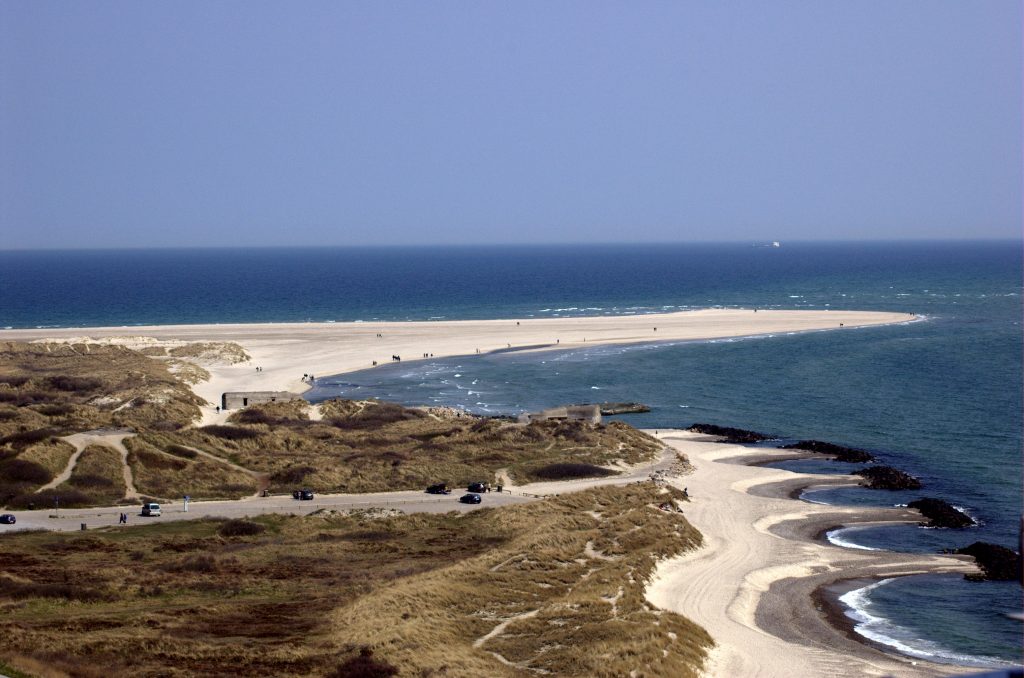 Other than the northern coast, things to do and see in Skagen is its architecture, churches, and museums.
Copenhagen
No, we're not talking about chewing tobacco here. Copenhagen is, as many of you already know, the capital of Denmark. Known for its designers and architects, they have a very popular attraction for children – the Tivoli.
Most people refer to it as just Tivoli, but it's also known by English speakers as Tivoli Gardens. Tivoli is an amusement park as well as a garden and also host concerts of all kinds. It's the most visited theme park in Scandinavia. They have a wooden roller coaster as well as some more modern roller coasters and rides.
And, since you are in Copenhagen you also have to visit the Little Mermaid (Den lille Havfrue) – this iconic bronze statue depicting a mermaid becoming human. It's based on a fairy tale by the same name, written by well-known Danish author H.C. Andersen.
Travel safe!

billund, copenhagen, denmark, kids, lalandia, legoland, ribe, scandinavia, vikings