Brewpubs in Hawaii
Beer, beer, beer! That's been on a lot of people's minds. Gone are the days when everyone went out for wine tastings. And I don't blame them. I love beer myself, and we often go out to enjoy all the brewpubs that have opened in Hawaii the last few years.
There might not be as many Honolulu brewpubs as in San Diego or Seattle. But for Hawaii standards, there's actually a pretty decent selection of establishments that will pour you a good fresh pint of craft beer nowadays.
Aloha Beer
When Aloha Beer first hit the market, they were among the first microbreweries in Honolulu. Their beer was decent but I was disappointed in their brewpub on Nimitz. With good beer you need good food and great ambiance. They had neither of the latter. Not surprisingly, their brewpub shut down and they just continued selling bottled beer in local supermarkets. But great things were to come…
A few years later, they opened up a new brewpub in the Kaka'ako district, and this time they weren't taking any things for granted. With prior experiences at their old location, I was reluctant to visit the new place. But once I did, I was hooked. They took care of all the details….great beer, great food, great service, and a great ambiance. Parking can be tricky, but there is a lot one block towards downtown that has a flat fee for the night.
BeerLab
The guys behind BeerLab have an interesting story, starting out with regular jobs as engineers at Pearl Harbor while brewing in their backyard using a system based on Raspberry Pi. I got to sample a deliciously fruity Pale Ale in their early days and new these guys had some real brewing talent. It wasn't long until they opened their tasting room near University of Hawaii. You won't find them on store shelves but they do sell kegs to brewpubs throughout Honolulu, so you can sample them at other hangouts as well.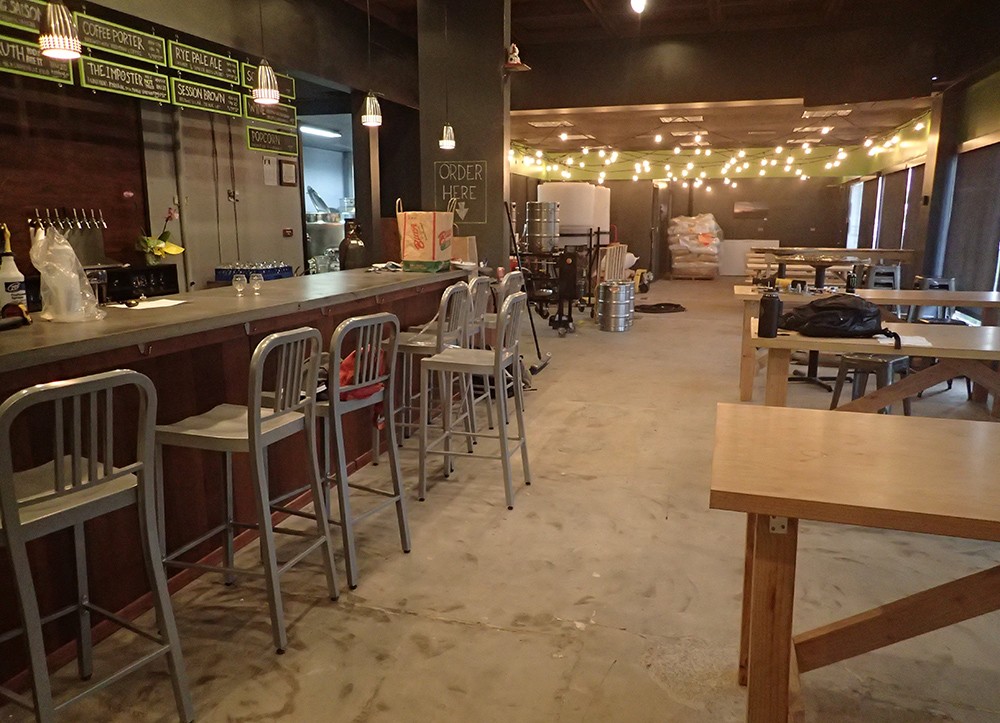 They don't serve any food at their tasting room, but regularly have food trucks stop by outside that sell well-matched beer grub. In terms of beer, I feel that BeerLab loves to experiment. They have a lot of "out there" kind of styles. So if you want to dip your toes into unknown waters, BeerLab is the place to go. But if you are a mass-produced American lager kind of person, then this place is not for you.
Brewseum
I had long hear about this place before I ventured there. Why, I don't know!? I'm a big fan of both beer and military history, so to find that bundled up under the same roof is a no-brainer. I finally made the trek, wishing it was in a more accessible location. Not that it's far away, but good luck finding parking nearby.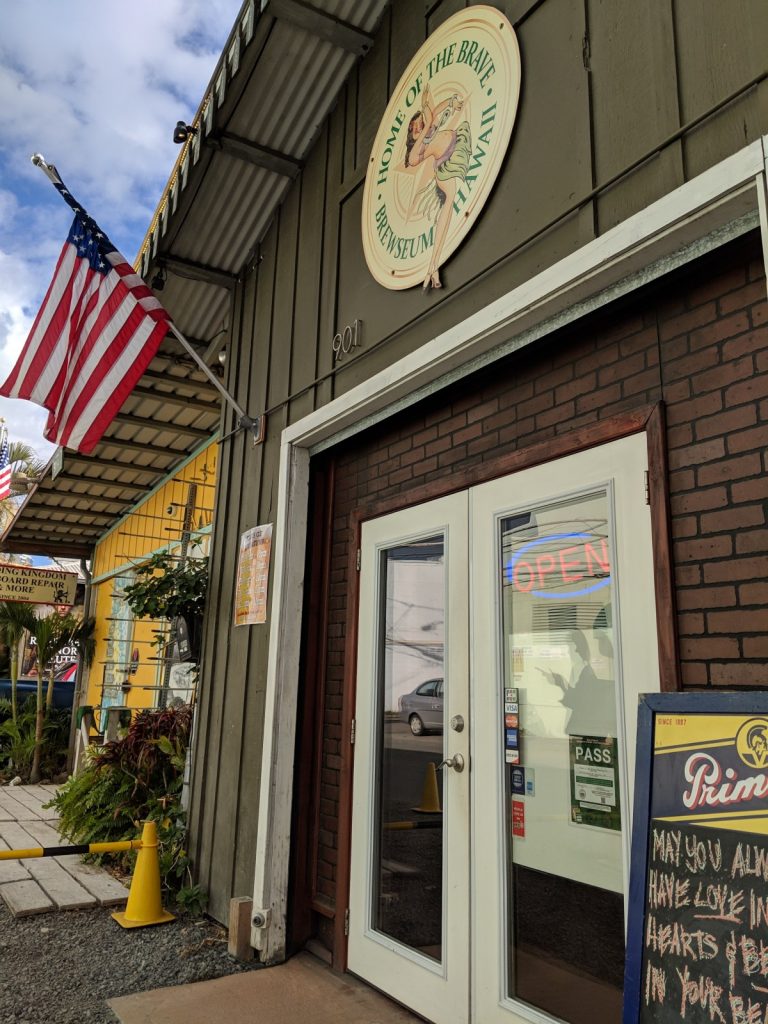 Anyway, I'm happy I made it there. It's a very interesting place with a small beer hall adjoining a WW2 history museum with focus on the Pearl Harbor era. Most people I've encountered at Brewseum are fellow history buffs, so don't expect a very diverse clientele.
Earlier I talked about three things…beer, food, and ambiance. Brewseum has decent beer and great ambiance. However, they are lacking on the food side of things. Fortunately, I do see a food (tacos) truck show up on a regular basis, so there's one option at least. This place is worth a visit, but it won't make it on to my list of places to visit on a regular basis.
Honolulu Beerworks
This place has been a mainstay as the first (as far as I know) microbrewery/brewpub in the Kaka'ako district of Honolulu, and they are still rocking. I really like their beer and often buy their six-packs in the grocery store near my home.
The ambiance is great and the food is decent. I usually end of getting the Bavarian style pretzel. If I remember correctly, they also have a decent poke sampler. Parking can be hard to find, but available on streets in the neighborhood.
Lanikai Brewing
Before I had experienced Lanikai Brewing at their Kailua tasting room, I was very much opposed to sour beers. I almost turned around when I went to their tasting room and saw that sours were the flavor of the month. Yikes! But I like a challenge and don't mind being proven wrong. And so I was. All sours I was served that night were delicious. I don't know if it was their selection of sours, slightly fruity, that did it for me. Whatever it was, I was not afraid of sours anymore.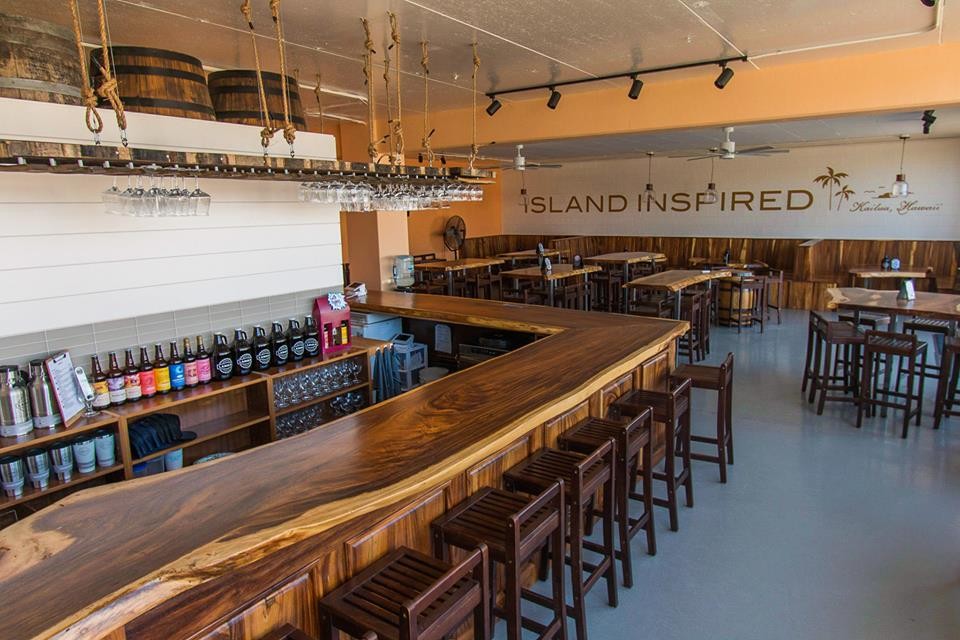 Service was good and I loved the full wood slab tables. However, the rest of the interior was somewhat clinical and uninspiring. This place also don't have any food so you have to rely on food trucks. Lanikai sure has some winner, but I wish that they would rotate their bottled beers more often. I'm getting a bit tired of the same 'ol threesome.
Maui Brewing Co
I have a long history of drinking Maui Brewing (MBC)….at least as long as they've existed. They were early out with canned beers and many kudos to them for challenging the idea that beer should only be bottled.
Maui Brewing Co has four brewpubs: Lahaina, Kihei, Kailua, and Waikiki. I've only ventured out to the latter two, which are on the island of Oahu. Nonetheless, they are fantastic places. I do prefer the Waikiki location as it overlooks the hotels and has a great play area for kids and adults alike. The Kailua location is nice but is a bit bright for my taste. It's also newly opened, so staff aren't fully seasoned yet. In terms of beer, food, and ambiance, MBC scores well on all. I especially like their selection of food. Definitely on my short list of places to frequent.
Real Gastro Pub
Making it down the list in alphabetical order, it's time for Real Gastro Pub. For a long time, they were located close to the very accessible Ward Theatres. It was tucked away in a corner of a rundown building. I used to call it the "artery clogger" place based on the food. They definitely live up to their name of being the real gastro pub. Then they closed for a while and have recently re-opened in a new condo complex elsewhere in Kaka'ako. The re-opening was very welcome as I had missed eating their hearty food.

The new location of Real Gastro Pub is way better than the old one. It's highly accessible with a parking garage in the same building and there's plenty of seating at tables and at the bar. I went back and was super happy that they still have my favorite dish….their yummy poutine! 🙂 At the time of this writing, they are strictly a brewpub. They don't brew any of their own beers, although I understand that will change soon as they are building up their own brewing program. I love this place and will definitely be back.
Waikiki Brewing Co
Last but not least, we get to Waikiki Brewing Co. This brewpub got started with a location only in Waikiki, of course, but later opened an additional location in Kaka'ako on the same street a couple of blocks away from Aloha Beer. The second location is larger, more accessible, and serve their own food. The Waikiki location on the other hand is small and gets their food from the restaurant next doors. I think the Waikiki location is cute, but I find myself going to Kaka'ako way more often because of the accessibility.
Good ambiance, and good beer. Don't remember much about their food, so it's probably just average. I love their Jalapeno Mouth ale and often go home with a growler of it. Cheers!
Hope you enjoyed this read and plan for beer drinking next time you visit the beautiful Hawaiian islands. Just remember to take Uber or Lyft back to the hotel.
beer, breweries, brewpub, craft beer, hawaii, honolulu, micro breweries