Credit Cards for Travelers
There are numerous popular websites and blogs that recommend an abundance of traveler credit cards to their readers, in return for commissions when the readers sign up for those cards. We'll, I won't do that!
I will recommend you credit cards that I find highly useful and beneficial when traveling. But I am totally honest and will not base my bias on personal financial gain and readers' clicks. There will be no affiliate links in this post… no links at all for that matter.
Traveling has been part of my life since a very young age. My parents loved to travel and I carried that with me throughout college and my adult life. I'm not a million miler like some other travel bloggers. However, we make 2-3 trips a year that involves flights, hotel stays, and rental cars. In college, I figured out that the best way to travel was to pay my tuition with an airline credit card….the same airline that I would earn miles with when going back home during school breaks. Those miles racked up fast. Now, as an adult with kids, I have several cards that gives me travel perks from all my spending. I do use my credit card for pretty much everything these days. Here I'm going to recommend my 3 most used cards, and great options for travelers alike.
Bank of America Alaska Airlines Visa Signature Card
If you live in the USA, specially the western half, this is by far the best airline branded credit card you can get. Why? Because to start off, you get a companion ticket shortly after opening and then one more every year as long as you keep the card. They are the only airline that offers such a benefit. All other airline cards I know of only give you the companion ticket once and that's it.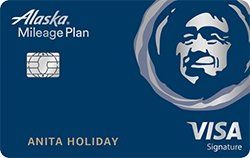 Then of course, you get Alaska Airlines miles, free luggage and so on. The annual fee is $75, which is slightly lower than the $99 average. Beyond the card, Alaska Airlines is often voted among the best airlines in the US. Could it be because of serving craft beer on every flight? 😉
US Bank Altitude Reserve Infinite
I'm fairly new to this card, but it has become a favorite for everyday use. US Bank is not one of the big players and credit card pushers like Chase and Citi, but every now and then they have some solid products. This card has great benefits. What drew me to this card is that if offers 3% back on all mobile payments. That is, every Apple Pay or Google Pay payment you make, you get 3% cash back. Now, if you use those earnings for travel purchases, they give you a 50% bonus, which makes it a 4.5% earnings rate.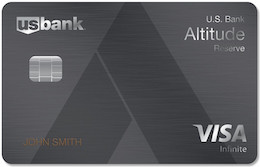 Ok, so now you will probably freak out that the annual fee is $400. Keep calm! I'll tell you why it's not as much as it seems. For starters, they reimburse you for up to $325 travel spending each year. So if you just spend $325 per year on a hotel room, flight or rental car, you'll get reimbursed that amount. Since most of you reading this probably meet that criteria, that brings the annual fee down to $75. With other benefits such as the earnings rate I already mentioned, free Priority Pass membership, free Gogo in-flight wifi, as well as reimbursement for Global Pass or TSA Precheck fees, I find the annual fee pretty moot. If you are looking for a non-branded travel card, this should be on your shortlist.
American Express Hilton Honors Aspire
Ok, the last but not the least card that I keep in my wallet and use for certain spend and when traveling is this Amex Aspire card. I long had the lesser card called Ascend, but recently upgraded to the top of the line Aspire. Why? Purely to get the Hilton Diamond status. I wouldn't say that we are strictly a Hilton family. We don't really follow any specific brands when traveling. However, a lot of the destinations we reach, usually have some kind of Hilton property. This card makes it highly beneficial to stay at a Hilton.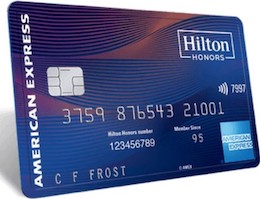 And that whopping $450 annual fee? It's all worth it! First, you get one free weekend night every year. Then you get a statement credit of up to $250/year for any spend you do at a Hilton Resort. You also get $250 reimbursements for airlines incidentals. I recently flew with United and got reimbursed for the $30 x2 luggage fees as well as the $10 x2 in-flight lunches….just because I used my Amex to pay for it. The downside is that you have to specific what airline each year that you want to get credit for, so only on one airline. But you can change each year. With this one, you also get Priority Pass membership, so now I have two….even though I don't need it. But good to know.
Anyway, back to the Diamond status. Hilton is the only hotel brand where you can get the highest status just by having a specific credit card. It's great for someone like us who don't rake up the qualifying Hilton points to reach Diamond, but I do feel a little bad about it. In some ways it's diluting the status. So far though, I haven't noticed it. You won't believe how much better we've been treated at the Hilton properties since I got my Diamond status. During our last stay, we were on the same floor as the Executive Lounge. Free breakfast and snacks every day. And as soon as we needed water or any other beverage, we just headed over to the Lounge. This may sound funny, but I'm going to save quite a bit not having to buy water when staying at hotels. You also get a shitload of bonus points when you are a Diamond member and use this card for your Hilton spend.
Anyway, there you have it. It's my most used cards in my wallet these days, and they are the best travel cards we've possessed to this day….we've gone through a ton of them.
How do I spread them out? What kind of category spending?
I use the Altitude card for everyday expenses….trying to use Apple Pay every time. I also use it for booking flights and rental cars, for the travel reimbursement and since travel purchases also get 3% back.
I use the Alaska Airlines card when flying Alaska Airlines obviously, as well as getting the companion fare.
I use the Amex Aspire for Hilton spend as well as all restaurant purchases. You get excellent point bonuses in those two categories. This card is not as great for everyday spend.
Oh, one last thing to remember: Be fiscally responsible. Travel credit cards like these usually carry a high interest rate. All the benefits of these cards are worthless if you don't pay off the card and carry a balance every month.